Can you believe it? This is stunning. Thanks to the incredible outpouring of support for this project, we zoomed past our first stretch goal—Operation Ishtar—in only three days. Ishtar and Esther are booked! Thank you!!!
Now we're into our second stretch goal. In the continuing spirit of total nerddom, we're calling it:
Operation Hecate. (Imagine dark, atmospheric music.)
Our goal with Operation Hecate is to hit $9,000. That will fund four more costumes, including of course the amazing Hecate: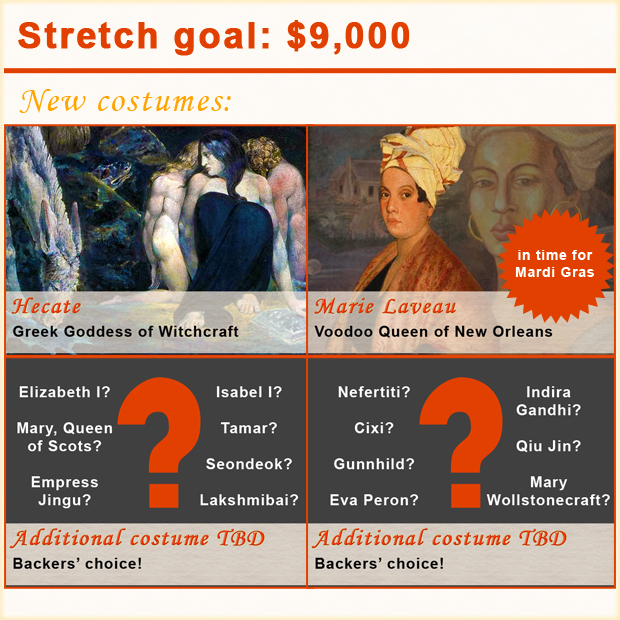 We're very excited about this goal, because these costumes will be flat-out fantastic:
Hecate: the goddess of the crossroads, strongly associated with magic and sorcery. But she's not evil: the ancients also revered her as a Great Goddess, and in some places she was worshipped as a protective household deity.
Marie Laveau: one of the most mysterious figures in American history, Marie Laveau was a powerful Voodoo priestess whose legend still haunts New Orleans.
Two more wild card costumes: backers will get to vote from our full list of possibilities, and we'll also open the floor to more suggestions!
The outpouring of love for this project just goes to show how much pent-up demand there is for an alternative to Sexy Hamburger costumes. (Sexy Hamburger? Really?) Thanks to all of you for helping us bring diverse, creative, empowering costumes back to Halloween!