Will Rogers called her "the greatest woman rifle shot the world has ever produced." The Associated Press dispensed with the female qualifier in her obituary, calling her "perhaps the greatest shooter of all time." Sitting Bull famously nicknamed her "Little Sure Shot."
Annie Oakley (1860-1926) was born poor, and originally took up shooting as a way to feed her family. Her incredible skill eventually made her the star of Buffalo Bill's Wild West Show and an international sensation. She could hit any target, it seemed, no matter how tiny. She could shoot the heart out of a playing card, or, if the card was held sideways, split it in half. She could shoot the ash off a cigarette and the cork out of a bottle. She could shoot upside down, backwards, looking over her shoulder in a mirror, anything. And she was consistent: one of her fellow sharpshooters said it was simply impossible to beat her. She was like a machine.
Annie designed and sewed her own costumes, combining practicality with a frontier aesthetic and a strong sense of personal modesty. Her outfits were never even a tiny bit revealing, but they gave her the freedom of movement she needed. The pieces we suggest, from left to right: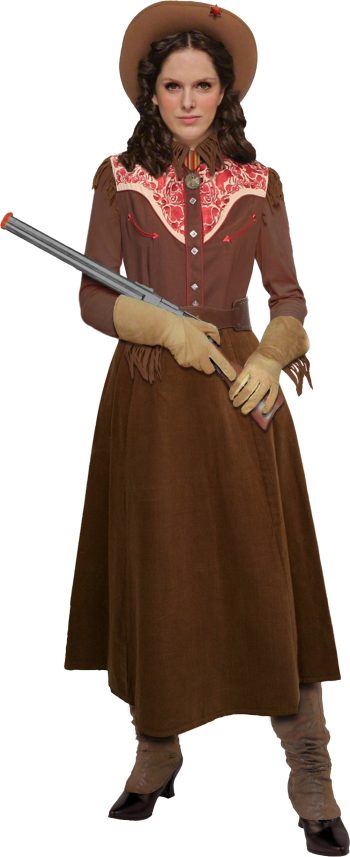 1. Scully western blouse in brown plus optional brown suede fringe. The blouse is also available here and here. The only thing we suggest you add to it is a little bit of brown suede fringe, which we also use on the gloves (next). It's not required, but it does help tie it all together and make it look like one of Annie's outfits. Use Res-Q tape or Aleene's Tack-It Over & Over to temporarily attach a row of fringe to the collar. We added a little bit of fringe at each shoulder for good measure.
2. Womanswork gauntlet gloves plus optional brown suede fringe. Glue a strip of the suede fringe to the gauntlet seam to give these garden gloves some western flavor and help tie them in with the blouse. Alternate gloves, slightly cheaper: Angela's Garden gauntlet gloves.
3. Brown twill skirt. Alternate skirt: A-line chocolate twill skirt. Basically you just need a full skirt in a sturdy twill that's about the same color as the blouse. You want the skirt to be tea length at most, so depending on how tall you are and which skirt you get, you'll probably need to turn up the hem. Res-Q tape makes it easy. (If you get ambitious, there's nothing stopping you from buying a few yards of that same brown suede fringe and edging the whole bottom of the skirt with it.)
4. Brown faux leather gaiters.
5. Brown felt gambler hat by Jacobson. Also available here.
6. Costume medals and a red star pin (from eBay). Annie Oakley was famous for wearing a six-pointed star on the upturned brim of her hat. Gold or silver would be great, but we chose this Army surplus red star pin because it looks good with the blouse. Annie also liked to wear her shooting medals. We chose to use one medal pinned at the collar where a necktie would be, just like Annie is wearing in the big studio portrait in our main illustration.
Toy rifle: If you're thinking of carrying a toy gun as a prop, first make sure you won't be breaking any laws. It's illegal in some places to carry toy guns in public. And even if it's not illegal, it can still be dangerous. People have died because somebody mistook a toy gun for the real thing and overreacted. But if you are looking for a prop gun to use in a totally safe way in a non-public locale, the 30″ Winchester Model 1894 toy rifle is a good choice: