Backers of our Kickstarter project will get to vote on which new costumes we do for 2013. This series of posts is designed to briefly introduce the many notable women and legendary figures we'll be considering.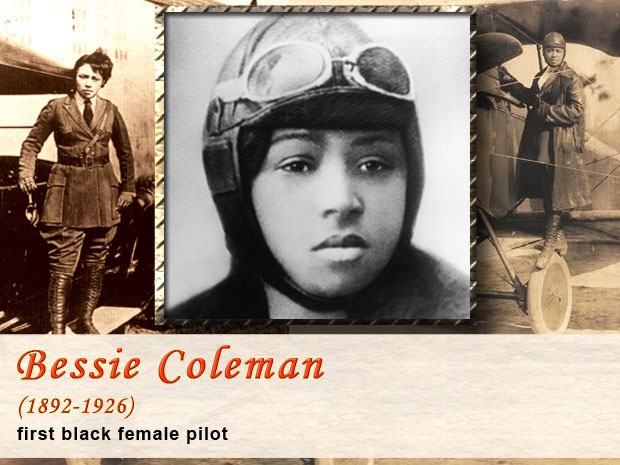 You've heard of Amelia Earhart, but do you know about Bessie Coleman? She was the world's first black female pilot. The child of sharecroppers in Texas, she overcame incredible odds (poverty, racism, sexism) to pursue her dream of flying. PBS has a good biographical sketch:
It was soldiers returning from World War I with wild tales of flying exploits who first interested Coleman in aviation. She was also spurred on by her brother, who taunted her with claims that French women were superior to African American women because they could fly. In fact, very few American women of any race had pilot's licenses in 1918. Those who did were predominantly white and wealthy. Every flying school that Coleman approached refused to admit her because she was both black and a woman. On the advice of Robert Abbott, the owner of the "Chicago Defender" and one of the first African American millionaires, Coleman decided to learn to fly in France.

Coleman learned French at a Berlitz school in the Chicago loop, withdrew the savings she had accumulated from her work as a manicurist and the manager of a chili parlor, and with the additional financial support of Abbott and another African American entrepreneur, she set off for Paris from New York on November 20, 1920. It took Coleman seven months to learn how to fly. The only non-Caucasian student in her class, she was taught in a 27-foot biplane that was known to fail frequently, sometimes in the air. During her training Coleman witnessed a fellow student die in a plane crash, which she described as a "terrible shock" to her nerves. But the accident didn't deter her: In June 1921, the Fédération Aéronautique Internationale awarded her an international pilot's license.

When Coleman returned to the U.S. in September 1921, scores of reporters turned out to meet her. The "Air Service News" noted that Coleman had become "a full-fledged aviatrix, the first of her race." …

Over the next five years Coleman performed at countless air shows. The first took place on September 3, 1922, in Garden City, Long Island. The "Chicago Defender" publicized the event saying the "wonderful little woman" Bessie Coleman would do "heart thrilling stunts." According to a reporter from Kansas, as many as 3,000 people, including local dignitaries, attended the event. Over the following years, Coleman used her position of prominence to encourage other African Americans to fly. She also made a point of refusing to perform at locations that wouldn't admit members of her race.
Tragically, Bessie Coleman was killed in a flying accident in 1926. Her legacy lives on, though, and has inspired generations of women and girls. When astronaut Mae Jemison made history as the first black woman in space, she was carrying a photograph of Bessie Coleman with her.
Think we should add a Bessie Coleman costume to Take Back Halloween? Make sure you join our Kickstarter project so you can vote!



Tags : Costume Candidates 0 Comments