Backers of our Kickstarter project will get to vote on which new costumes we do for 2013. This series of posts is designed to briefly introduce the many notable women and legendary figures we'll be considering.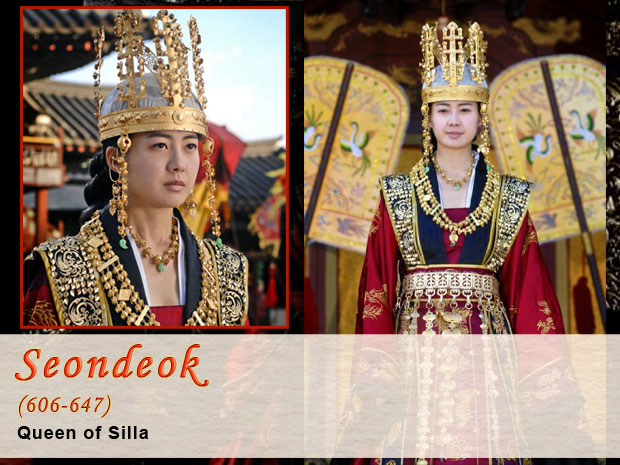 Seondeok was the greatest queen in Korean history, and the first to rule in her own right. She ascended the throne of Silla, one of the three kingdoms of ancient Korea, in 632. Her reign was by all accounts a glorious success. (The pictures above are from the 2009 TV series "The Great Queen Seondeok," with Lee Yo-Won in the title role.) Seondeok herself is revered in Korean history for her cleverness and wisdom. Perhaps the most famous story is the one about the peonies: it is said that when Seondeok was a child of seven, her father King Jinpyeong received a box of peony seeds from the emperor of China, along with a painting of what the flowers looked like. When Seondeok saw the painting she remarked that it was a shame the beautiful flowers had such little scent. When her father asked her how she could possibly know this, Seondeok replied that the painting showed no butterflies or bees buzzing around the blossoms.
As queen, Seondeok sponsored the arts, sciences, and Buddhist scholarship. The oldest surviving astronomical observatory in the world, Cheomseongdae, was built during her reign. The period was also full of wars and rebellions, but Seondeok acquitted herself well. Despite some male resentment of "women rulers," Seondeok held the kingdom together, and upon her death the crown passed peacefully to her chosen successor: her cousin Queen Jindeok.
Think we should add a Seondeok costume to Take Back Halloween? Make sure you join our Kickstarter project so you can vote!



Tags : Costume Candidates 0 Comments