Before Hurricane Sandy shuts down our power and yours, here's a thing you need to know (apart from what to pack for your emergency evacuation):
Our 2012 Halloween costume contest is here! Send in a photo of yourself (or a friend or family member) in costume for a chance to win a $50 gift certificate from Amazon! (Prize courtesy of a very kind sponsor.)
Here are the rules: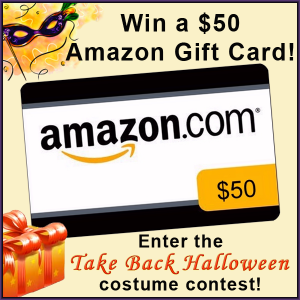 1. The photo must be of you or a friend or family member in costume. If the photo is of a friend or family member, you must obtain their permission to submit it. You'll need to tell us their name as well as yours, and note what your relationship is (sister, daughter, etc.).
2. The costume doesn't have to be inspired by Take Back Halloween, but we prefer that it fall into one of our categories: a goddess or mythological figure, a notable woman from history, a queen, a glamorous star—you get the idea. You'll notice that we don't do fictional characters on our website (such as Princess Leia or Hermione Granger), so we're more likely to be impressed by a mythological or historical costume.
3. Please tell us what the costume is, in case we are too dense to figure it out.
4. The costume may be from this year or any previous Halloween.
5. By submitting the photo, you are giving us permission to publish it on the Take Back Halloween website and on our Facebook page. You can send in multiple photos if you're not sure what the best one is or if you need several angles to reveal the full glory of the costume.
6. Submissions should be emailed to contest@takebackhalloween.org.
7. The deadline for submissions is 11:59 pm EST on Friday, November 9, 2012.
8. The prize is a $50 Amazon gift certificate. Use it on anything you like!
We expect to publish the winner the week of November 12, 2012.
Of course, all of this is assuming we don't get washed out to sea. We did not get washed out to sea! Contest is going strong, so email your pics to contest@takebackhalloween.org.
UPDATE November 10, 2012: Our contest is now closed, and we'll announce the winner next week. We were absolutely amazed by the wonderful costumes people put together, and the judging will be hard! Check out the entries we've posted on our Facebook page and you'll see what we mean. Thanks to everyone for sending in your pictures.