Hoo boy, it was tough this year. So many great costumes! And we had so many entries in the new Masquerade Division that we divided it into amateur and professional sub-divisions, added a category for "Fantasy" costumes, and reworked the prize money a little bit to make it go further. (For reference, here's the original contest announcement.)
All the winners will be uploaded to our 2017 Costume Contest Winners album on Facebook. You can also review all the entries this year in our 2017 Costume Contest Album. I will be emailing the winners with official notifications and Amazon gift certificates over the next couple of days.
Thank you all for participating in the contest and sharing your wonderful creativity.
Category Awards, Amateur Division
These are the prize categories that we award every year. They're based on our own costume categories here on the website: glamour grrls, goddesses and mythological figures, queens, and notable historical women.
Best Glamour Grrl Costume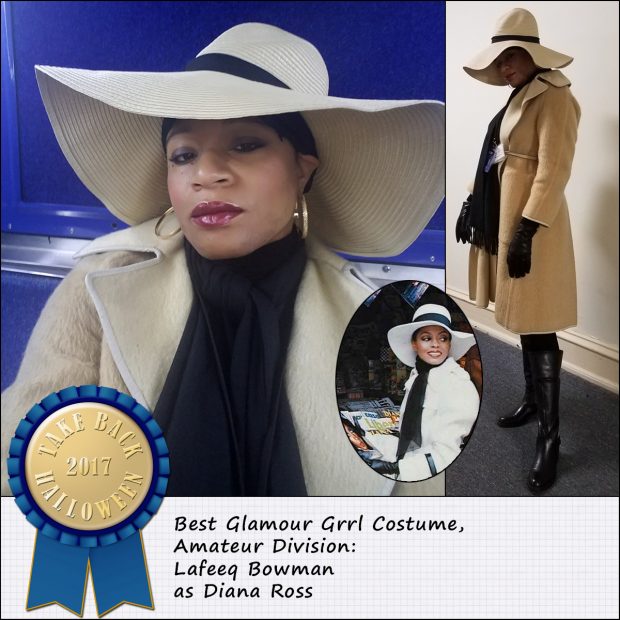 Winner: Lafeeq Bowman as Diana Ross.
Is this sharp or what? Lafeeq has perfectly captured one of Diana's glamorous looks in the movie Mahogany. It's that short but memorable scene where Diana and weird Anthony Perkins stroll up to the newsstand in Rome—memorable mostly because of Diana's fabulous ensemble. Lafeeq proves that 1975 fashion can still look good.
Best Mythological Costume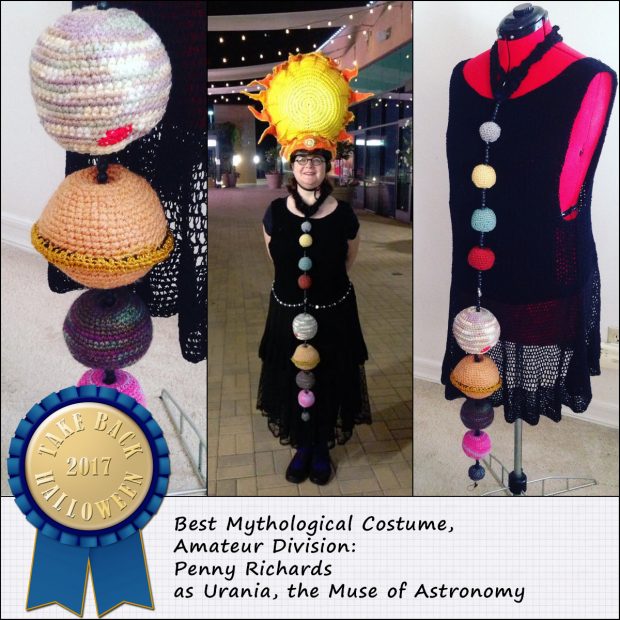 Winner: Penny Richards as Urania.
This category was super tough to judge this year, with lots of very competitive entries. But Penny won everybody's heart with her amazingly original and ingenious costume that includes a built-in pun. Penny writes: "My costume is all crocheted by me—sun headpiece, all the planets, and a black linen tunic (hard to see, but that was intentional—the dark void of space and all that). The Asteroid Belt is beaded. Sun headpiece is mounted on a bike helmet for stability."
Best Notable Woman Costume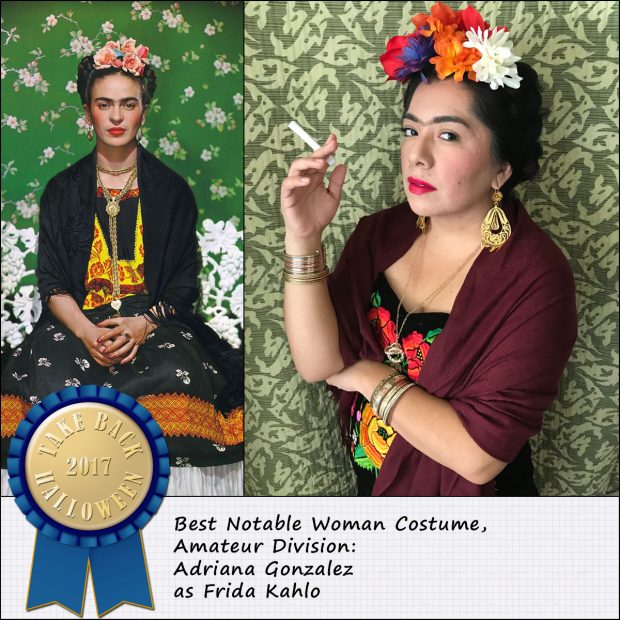 Winner: Adriana Gonzalez as Frida Kahlo.
Adriana perfectly captures Frida's style and insouciance. Adriana writes: "My top was completely handmade and bought in Oaxaca, Mexico. The earrings were also bought in Oaxaca, Mexico. To me, Frida Kahlo has always been a feminist icon for all women. She taught me that I can do anything I want and that I am myself's only limit. Because of her will and determination, I know that by following my passions and believing in myself, I can truly be the best person I can be. This is my first year entering the contest, I am beyond excited to at least be able to dress up and participate, to wear something that has a meaning, and show my culture via my clothing."
Best Queen Costume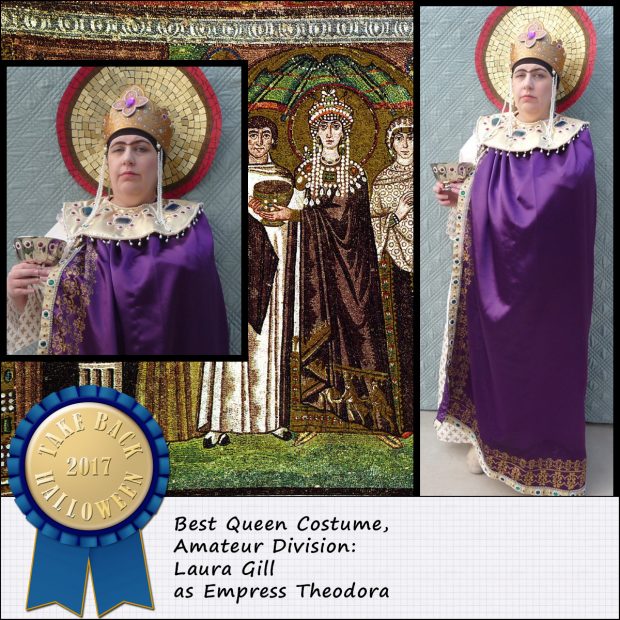 Winner: Laura Gill as Empress Theodora.
This outfit is amazing. Look at the jeweled border on the cloak! And the mosaic halo is a genius move. Laura writes: "I made just about everything from scratch, from the white gown underneath, to the cloak, to the collar, and even the chalice and halo. The cloak is purple crepe back satin hand beaded and jeweled. The expensive looking gold "embroidery" is actually stenciled on with gold paint. I bought the crown the website recommended, but modified it by accentuating the designs in copper and light gold paint, half-pearls and extra rhinestones. I hand beaded the tassels so I could have emerald green jewels hanging down."
Best Realization of a Take Back Halloween Design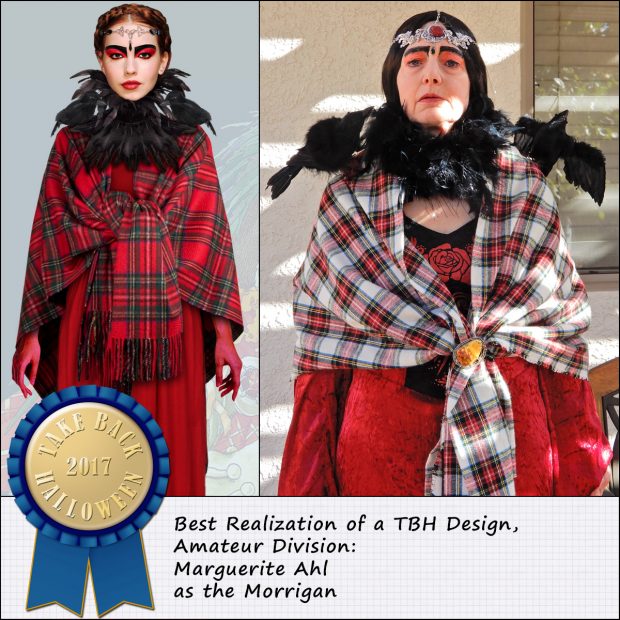 Winner: Marguerite Ahl as the Morrigan.
Marguerite desribes herself as an "amateur, no sewing skills, age 70." She did a bang-up job with our Morrigan design: a red dress and "2 yards of flannel fabric, black feather boa, black wig, circlet, two ravens." Awesome!
Judge's Choice, Glamour Grrl Costume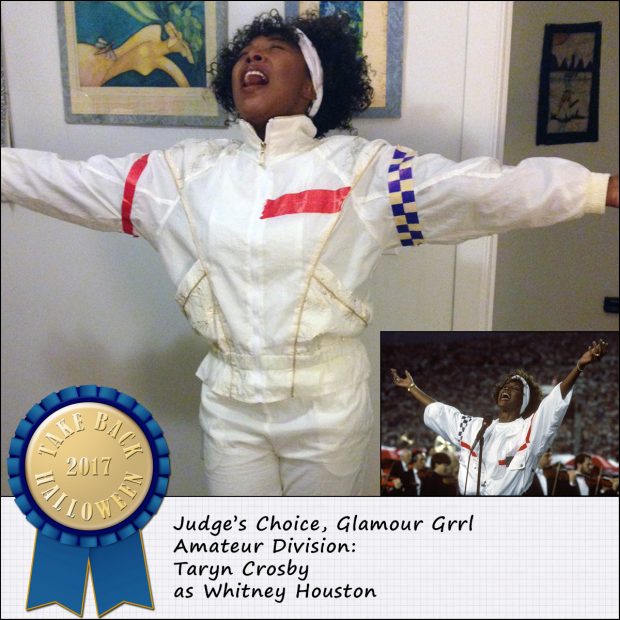 Winner: Taryn Crosby as Whitney Houston.
Because it's perfect. Whitney Houston singing "The Star-Spangled Banner" at the Super Bowl in 1991 was an indelible moment in musical and cultural history. And Taryn has nailed the look here, with a white track suit, some judiciously chosen tape, and a headband. Perfect!
Judge's Choice, Mythological Costume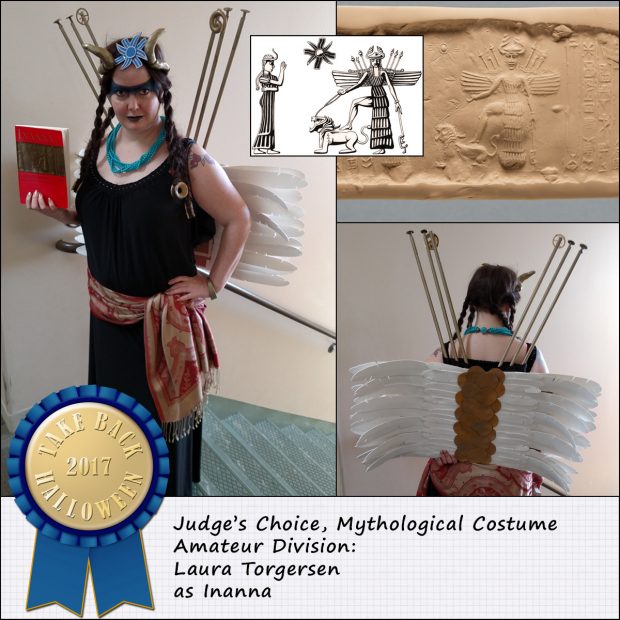 Winner: Laura Torgersen as Inanna.
If you're a Bronze Age costuming geek like me, you immediately see the thrill here: Laura has successfully replicated the look of Inanna's wings and battle accoutrements on the cylinder seal at the University of Chicago. She writes: "All accessories came from craft, hardware, and thrift stores. Assembly was lots of fun; I cut out oodles of feathers, sculpted horns and hair beads out of clay, braided a wig, wired dowels onto a cardboard form, and did tons of spray painting. I'm especially proud of the wings, which, besides turning out thrillingly close to the source material, I attached to a backpack so I could go out dancing in costume!"
Judge's Choice, Notable Woman Costume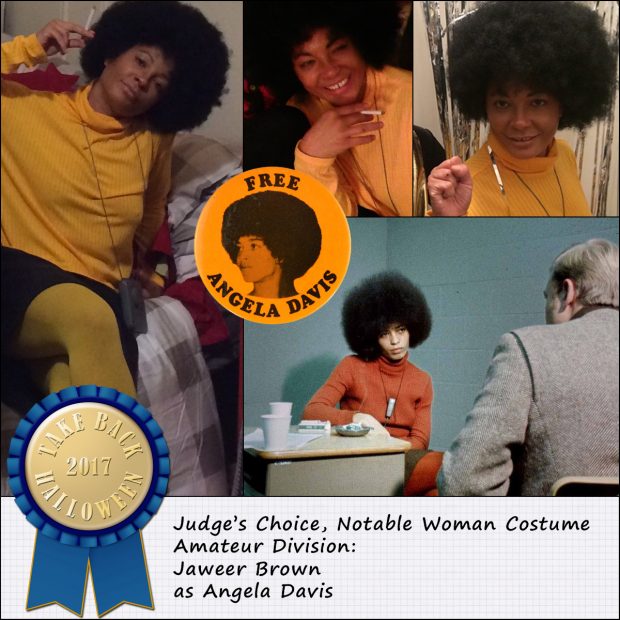 Winner: Jaweer Brown as Angela Davis.
I grew up in the era of Free Angela Davis buttons, so when this entry arrived in my inbox, it was like a blast from my childhood. Not only is the outfit perfect, but Jaweer is positively channeling Professor Davis in that 1972 prison interview. Respect.
Judge's Choice, Queen Costume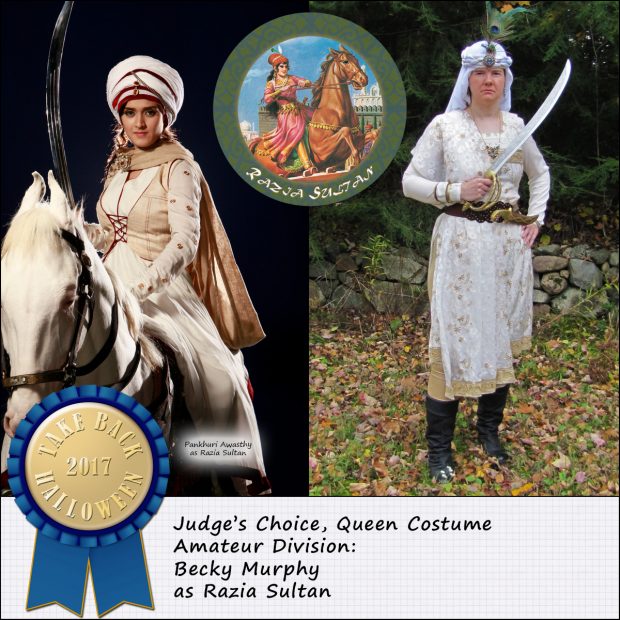 Winner: Becky Murphy as Razia Sultan.
Razia Sultan was one of the most remarkable women in history, and Becky did a wonderful job with this costume (even without a horse). She got most of the makings at Goodwill, painted the sword and dagger, and added gems and feathers as needed. I think it came together really elegantly.
Category Awards, Junior Division
Our Junior Division this year should really be called the Mother-Daughter Division, because all of the costumes are maternal labors of love. And in fact the winners of the Best Realization of a TBH Design this year are a mother-daughter pirate duo, whose award spans the amateur-junior divisions (but we're listing them here).
Best Mythological Costume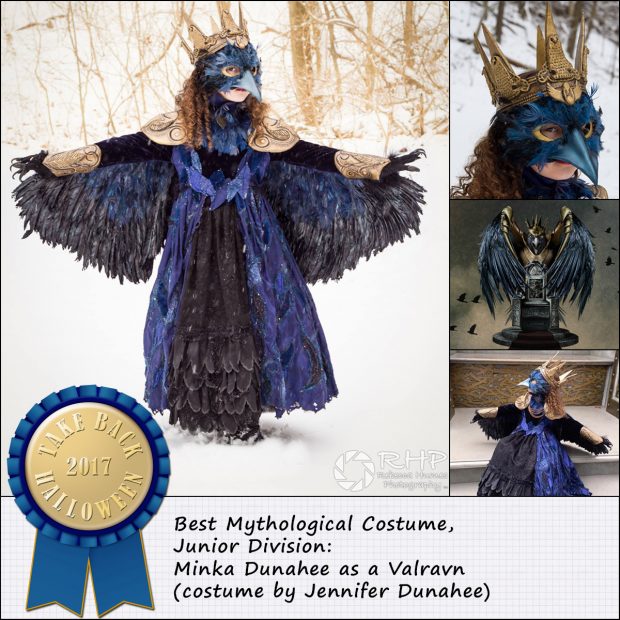 Winner: Minka Dunahee as a Valravn, costume by Jennifer Dunahee.
Where to even begin? This costume is absolutely breathtaking. Mom Jennifer writes: "The Valravn, or Raven of the Slain, is a figure from Danish folklore. My daughter was inspired when she saw an image of the creature, and I thought, given her Danish heritage, it would be fitting. It was a fun project, from start to finish, and took 9 months to complete. All of the blue fabric was hand made using dying, fabric manipulation, appliqué, cutwork, embroidery, painting, and beading techniques, many of which I learned and experimented with as I went. The crown, mask, and armor were all made by heating and shaping craft foam, which I also learned how to do as I went. I dyed and painted the feathers, then applied a buffing wax for extra shimmer. The wings are light weight and flexible, and when my daughter puts her arms down, they fold over her back, like a real bird's."
Best Notable Woman Costume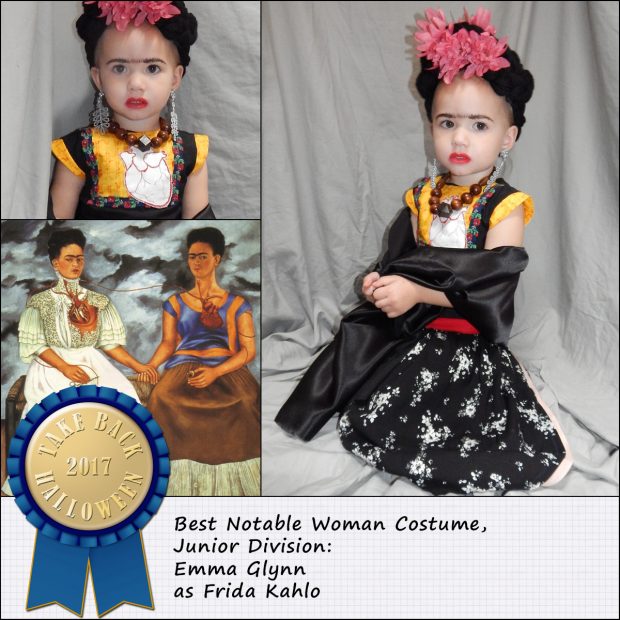 Winner: Emma Glynn as Frida Kahlo.
Frida Kahlo babies are the cutest babies! Little Emma is precious, and her outfit is perfect. In addition to the obligatory eyebrows, the flowers, the jewelry, and blouse, skirt, and rebozo, notice the anatomical heart patch. It's a nod to Frida's 1939 painting The Two Fridas.
Best Queen Costume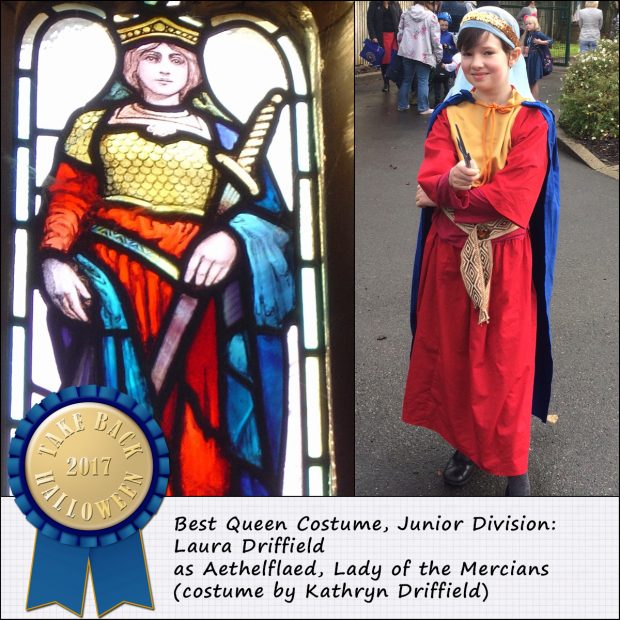 Winner: Laura Driffield as Aethelflaed, costume by Kathryn Driffield.
The eldest daughter of Alfred the Great, Aethelflaed was a brilliant general and ruler who campaigned against the Vikings and helped to reconquer the Danelaw. Mom Kathryn made this terrific costume for History Day at school, and Laura looks every inch the part.
Best Realization of a Take Back Halloween Design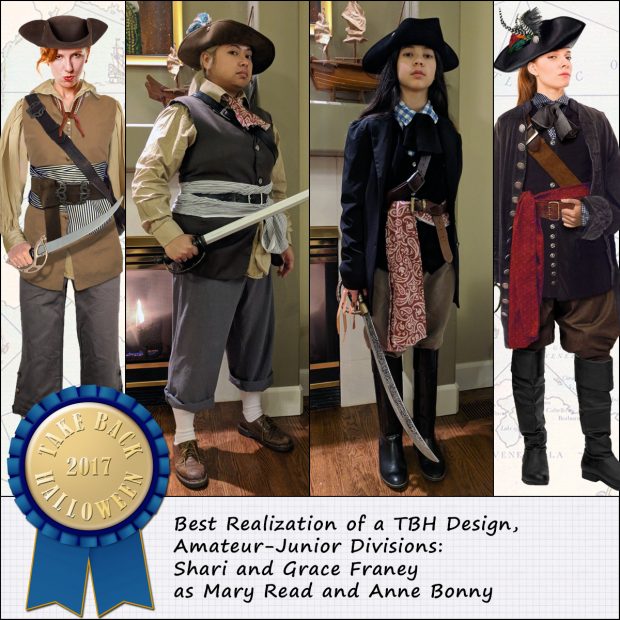 Winners: Shari and Grace Franey as Mary Read and Anne Bonny.
Mom Shari and daughter Grace have done an incredible job of recreating our costumes for the famous pirate duo, not only in looks but in spirit. In true pirate fashion, Shari and Grace scavenged for clothing and remade items as necessary. The shirts and hats are from Goodwill. Shari followed our suggestion for making a waistcoat by cutting the sleeves off a man's jacket. Grace's boots are made from grocery bag material covered with black duct tape. The buttons are repaints, and a few pieces of material were purchased new.The belts were in the closet and the swords are from the party store.
Category Awards, Professional/Expert Division
These are the same category prizes as above, but this division is for cosplayers, Renaissance Faire performers, theatre people, expert seamstresses, and others with professional or expert-level skill.
Best Glamour Grrl Costume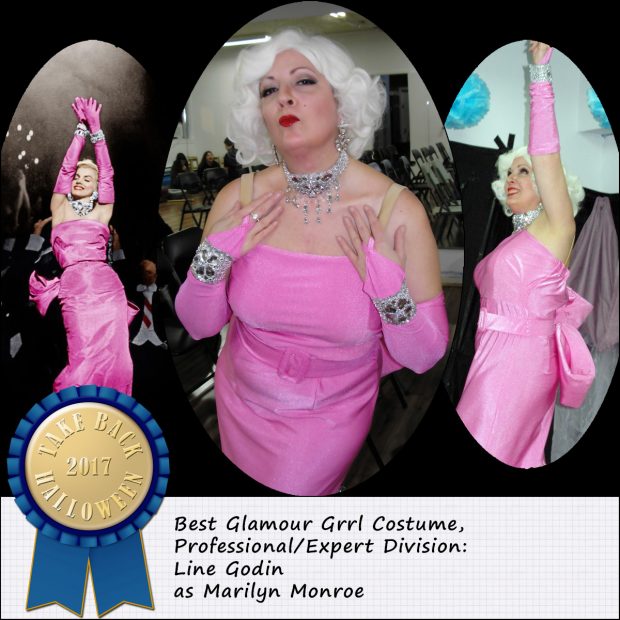 Winner: Line Godin as Marilyn Monroe.
Line has been making gorgeous dance costumes for herself and her sister belly dancers for years. She says she doesn't consider herself a seamstress, but she's obviously talented in the ways of fabric and bling. Last year for Halloween she made this splendid Marilyn Monroe outfit, inspired by the "Diamonds Are A Girl's Best Friend" number in Gentlemen Prefer Blondes. Magnifique!
Best Mythological Costume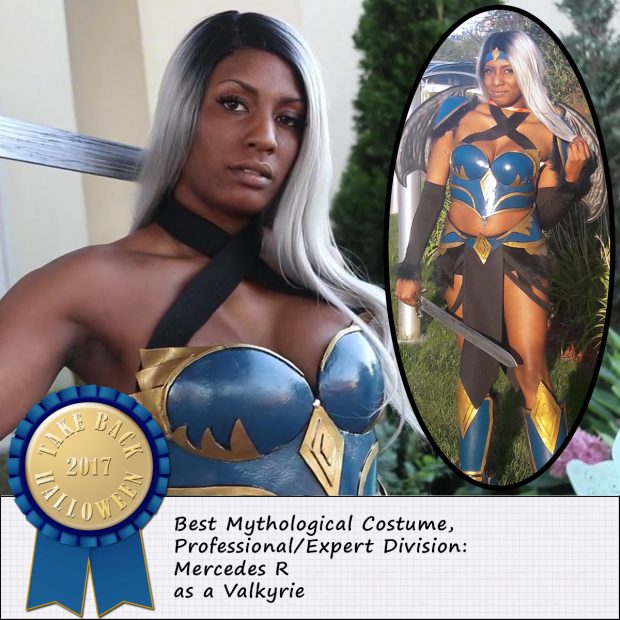 Winner: Mercedes R as a Valkyrie.
Mercedes is an up-and-coming cosplayer, and her marvelous valkyrie costume is inspired by the "Dark Valkyrie" in League of Legends. The costume is completely handmade; amazingly, Mercedes says that this is her first attempt at armor. We love the fact that the costume still has some bird in it: feathers at the cuffs and underneath the armor pieces on the shoulders and hips.
Best Notable Woman Costume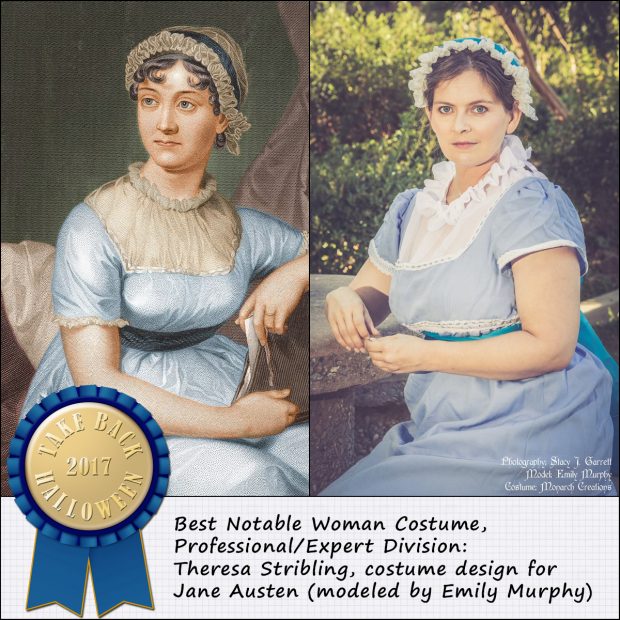 Winner: Theresa Stribling's Jane Austen costume.
Theresa designed and made this lovely Jane Austen costume (modeled by Emily Murphy). Isn't it perfect? Wonderful photo shoot, too; it's as if that portrait of Jane Austen just came to life.
Best Queen Costume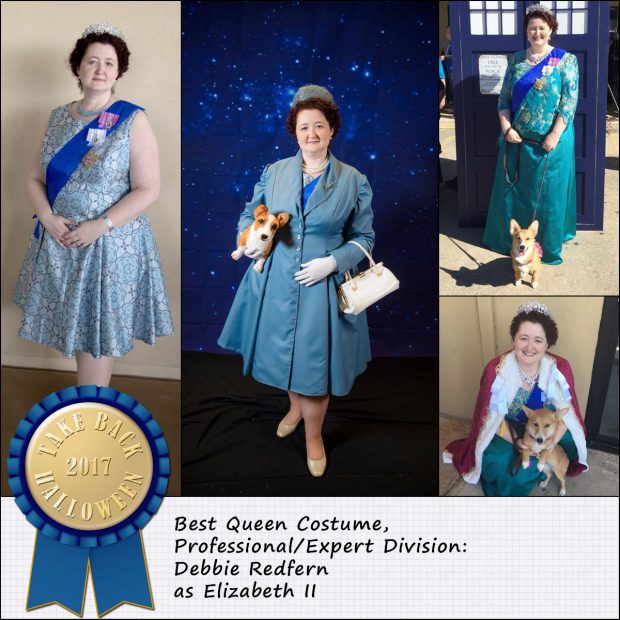 Winner: Debbie Redfern as Elizabeth II.
Debbie wins the prize for her amazing cosplay as Elizabeth II, which featured not only a superb 1955 day ensemble, but also an evening ensemble that looks exactly like the kind of thing the queen wears nowadays. A friend's Corgi completes the look. The making-of pics for the day ensemble are on Debbie's cosplay page here; the pics for the evening gown are here.
Best Realization of a Take Back Halloween Design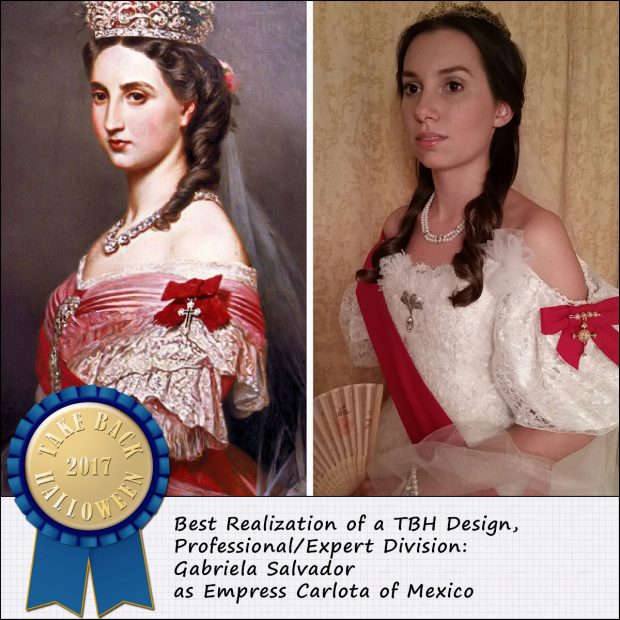 Winner: Gabriela Salvador as Empress Carlota of Mexico.
Gabriela was inspired by our costume for Empress Carlota, but she really improved upon it and did a better job of matching Carlota's portrait. Gabriela writes: "I used an 80s wedding dress, adding white tulle over the skirt and petticoats underneath it to give a fuller, Victorian look. A remnant of the tulle was tied to the back of the crown to create the veil. The sash and ribbons were made of scraps of fabric, and the jewelry was from thrift stores and flea markets. While not historically accurate, it is as evocative of the period as I could achieve under a budget. This was a fun costume to wear, and I got compliments all night!"
Masquerade Division
This is our new division with prizes for costumes that don't fall into our usual categories.
Historical Recreation, Amateur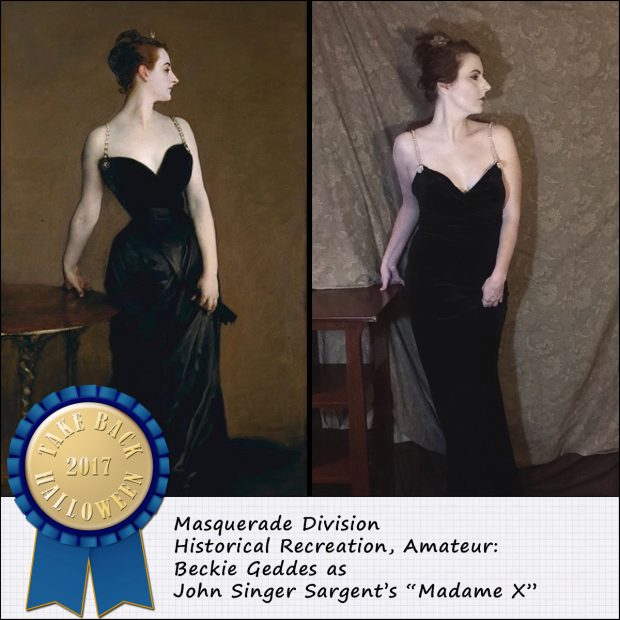 Winner: Beckie Geddes as "Madame X."
This is so good it's almost eerie. Beckie writes: "My costume brings to life the painting "Madame X", by John Singer Sargent, 1884. Someone told me I looked like her recently, so I had to give it a go. The dress is from the thrift store, which I altered and added new straps from my jewelry-making stash. Nothing new was purchased for this look or styling! Love it when that happens."
Historical Recreation, Professional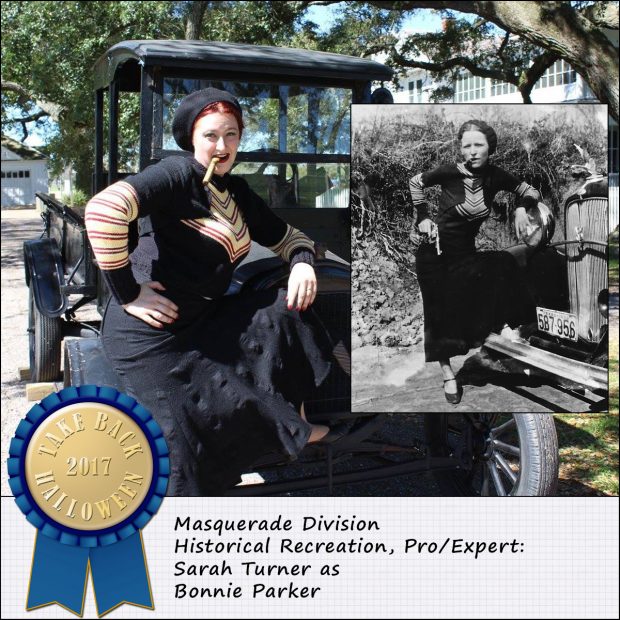 Winner: Sarah Turner as Bonnie Parker.
Talk about authenticity! Sarah writes: "When putting this outfit together I knew I wanted to try to recreate the costume from the famous Joplin photographs of the pair. I did research into 1930's materials and the pair before purchasing material. For the sweater, it has been assumed Bonnie knit it herself, as she was an avid knitter. While many people assume the ensemble is red, Ted Hinton is reported as saying that it was black with stripes of yellow, red, and green. As he is most likely to have seen it I went with his account when choosing the colors. I then contacted a friend who hand knitted the sweater for me using an original 1930's pattern. She even took pictures of the yarn in black and white to try to match the stripes to the right color. The skirt and Bolero are make from a wool blend fabric as I learned fabrics with a natural fibers and rough weaves were popular in the 30's. The bolero pattern was drafted by myself. To give a little authentic feel, as Bonnie was known to love cosmetics, I researched 1930's makeup and turned to besame who recreates period colors for a more accurate look."
Historical Recreation, Judge's Choice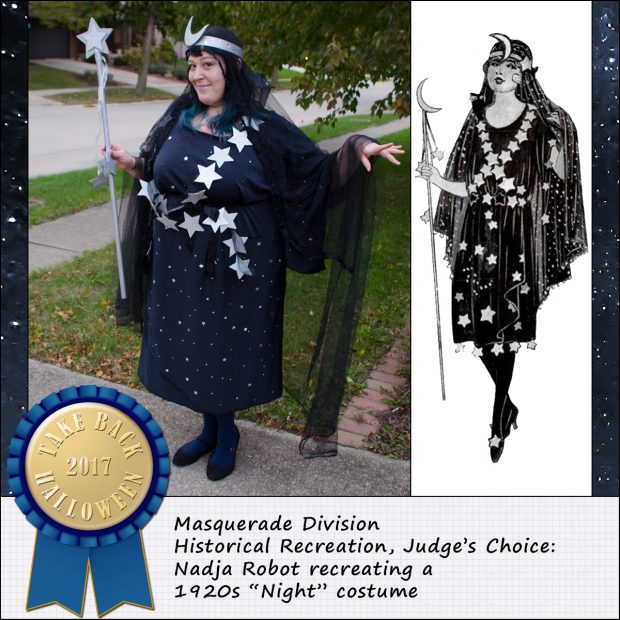 Winner: Nadja Robot recreating a 1920s "Night" costume.
I just love this one. It's so well done! The stars are perfect, the veil, the headband, the staff, the materials — all just perfectly chosen. It makes me want to dig up more costume designs from the 1920s. What's amazing is that this was a last-minute job. Nadja writes: "I had a different costume in mind but October got away from me and I had to make a 'quick' backup costume… so of course I glued dozens of stars and rhinestones to a 1920s 'One Hour Dress' I made."
Fictional Character, Amateur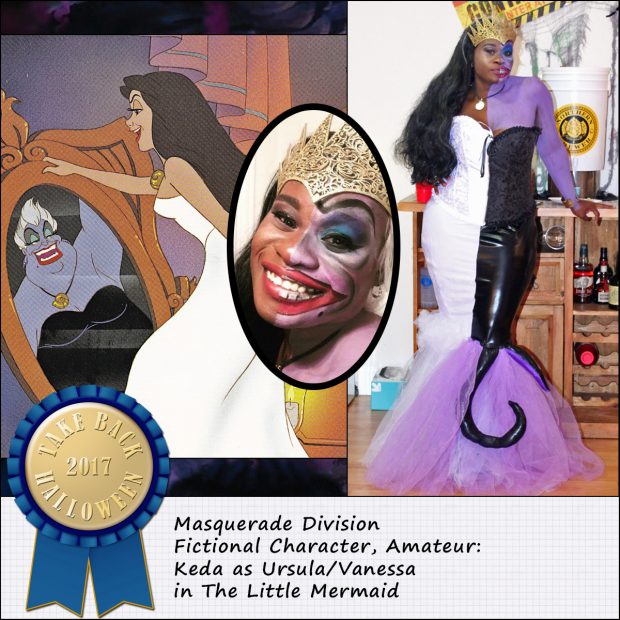 Winner: Keda as Ursula/Vanessa in The Little Mermaid.
This half-Ursula, half-Vanessa costume was a big hit with our Facebook community, and no wonder. It's so clever and cool. Keda did a terrific job with this, from the makeup to the amazing split skirt (love those freaky tentacles).
Fictional Character, Professional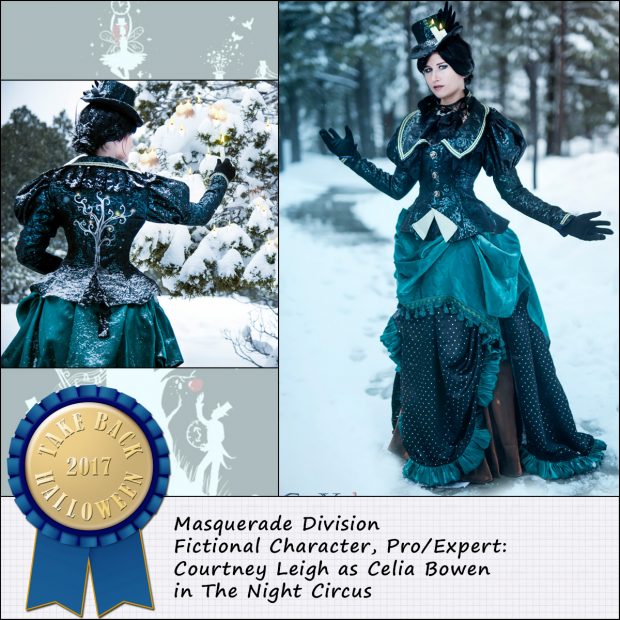 Winner: Courtney Leigh as Celia Bowen in The Night Circus.
Courtney writes: "This is an original design I based off of Celia Bowen from the Night Circus, a book set in the Victorian era and centered on magicians and magic. Rather than go the traditional route that many fan art goes with following the black and white scheme, I wanted to portray every part of Celia's character that I felt was important before she was consumed with the atmosphere of the circus. In the book she has the ability to change the color of her dress and when in the presence of her love interest, her clothes turn green, like his eyes, so that was a strong inspiration for the color scheme. On the back, I made the wishing tree, an attraction Celia designs in the circus where people can light candles for their wishes and place them on the branches. I carried this design choice to the hat, putting candles on the rim as representation. Every detail, fabric choice, and design on this costume represents something from the book or something about Celia's character." Courtney spent eight months on this costume, and it shows. Absolutely exquisite.
Period Costume, Amateur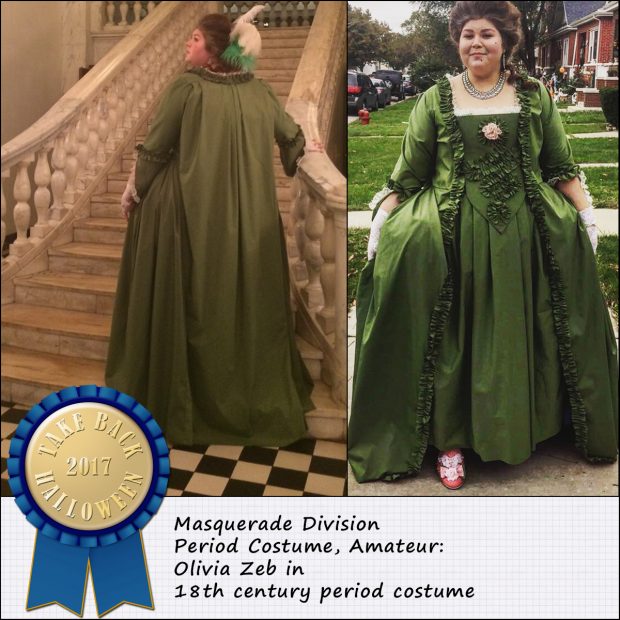 Winner: Olivia Zeb in 18th century period costume.
Beautiful dress and a perfect photo shoot! Love the shoes, the hair, everything.
Period Costume, Professional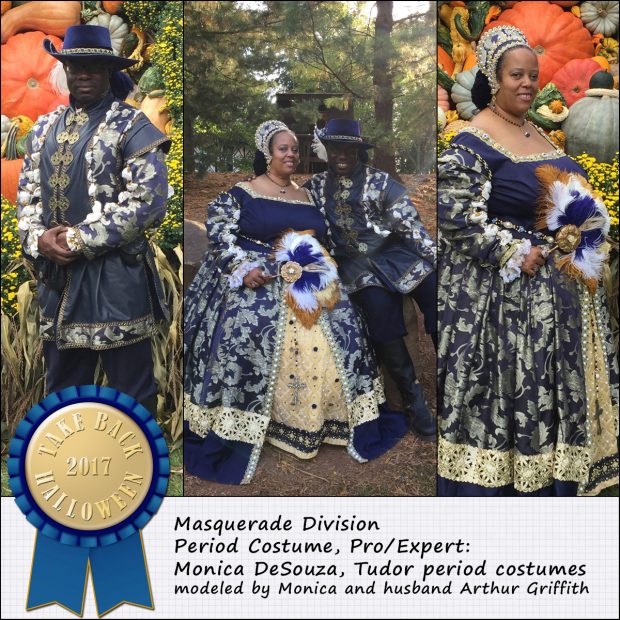 Winner: Monica DeSouza for Tudor period costumes (modeled by Monica and husband Arthur Griffith).
Do you think Monica and Arthur would adopt me? Okay, okay, probably not, but wow. Monica's genius as a costume designer and seamstress just amazes me, and she and Arthur make such a handsome Tudor couple. (Monica says Arthur's hat is by Tall Toad and the boots are Armstreet, but she made the rest.)
Fantasy Costume, Amateur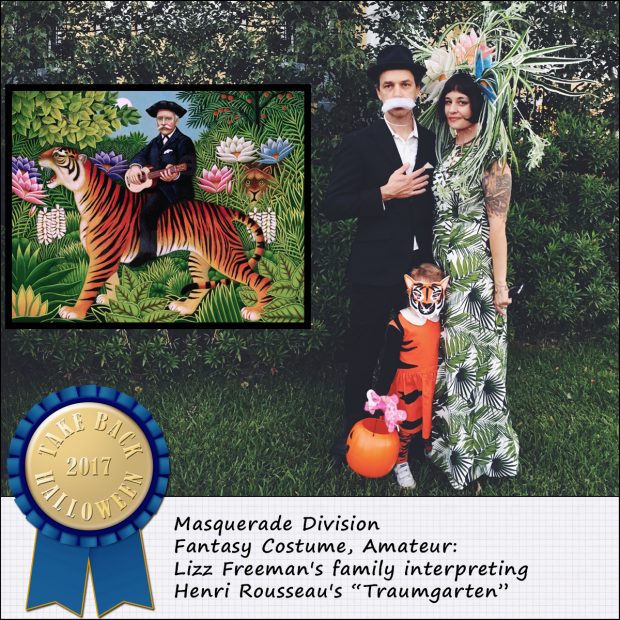 Winner: Lizz Freeman's family interpreting Henri Rousseau's "Traumgarten."
This is such a creative young family. A couple of years ago, when their daughter was a baby, Mom and Dad dressed her up as Amelia Earhart, built a cardboard airplane for her, and accompanied her through the neighborhood costumed as clouds. For this year's extravaganza, Lizz says that she sewed her daughter's dress and mask as well as her own dress from scratch. Our only question is how all those dracena leaves are attached to Lizz's head.
Fantasy Costume, Professional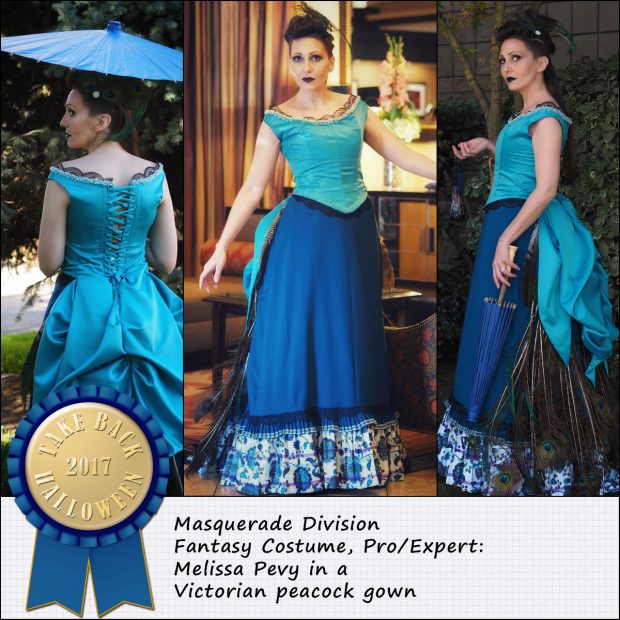 Winner: Melissa Pevy in a Victorian peacock gown.
Love this dress! And the feathers are to die for. There are examples of actual peacock masquerade gowns from the late Victorian period, but we think the styling on this one pushes it into the fantasy realm. Either way it's a winner, beautifully designed and executed. Congratulations, Melissa!
Canine Division
Surprise! Behold our lovely and talented canine winners:
Canine Division, Judge's Choice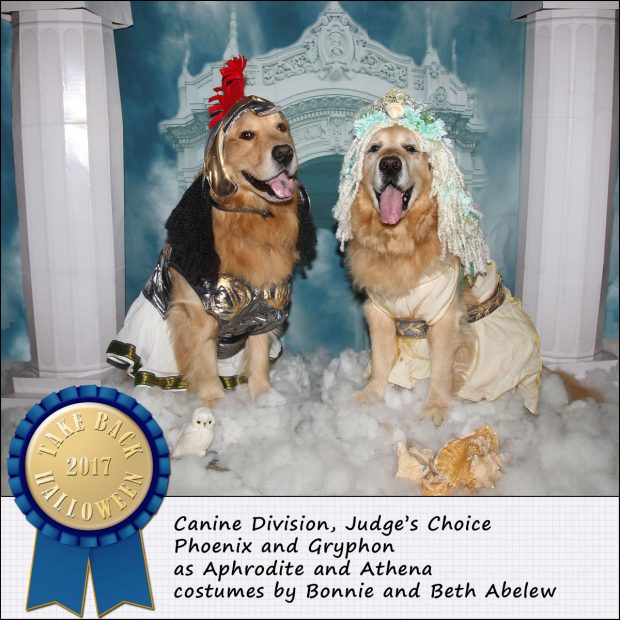 Winners: Phoenix and Gryphon as Aphrodite and Athena, costumes by Bonnie and Beth Abelew.
What is life without dogs? When we saw this entry we knew we had to create a special Canine Division. Bonnie and Beth write: "Phoenix and Gryphon are dressed as the beautiful Greek Goddesses Aphrodite and Athena. Phoenix as Aphrodite is the Goddess of Love and Beauty, and is wearing a hand-made white and gold toga with a blonde wig covered with flowers and a shell tiara. Gryphon as Athena is the Goddess of Wisdom, the warrior goddess, and is wearing hand-made breastplate armor over a white toga, with a black wig and helmet. There is also an embroidered owl on the back of the dress, since this is the symbol of wisdom. They are floating in the clouds by the castle atop Mount Olympus." LOVE.