Our 2020 Costume Contest was interrupted for three months by COVID and my work, so only now, three months later, are we posting the winners. I am so grateful for everyone's patience and good humor through this long, bizarre situation. What a year.
I will be emailing the winners their Amazon gift certificates over the next couple of days. (For reference, here's the original contest announcement.) All the winners have been posted on our Facebook page and uploaded to our 2020 Costume Contest Winners album. You can also review all the entries this year in our 2020 Costume Contest Album.
Okay, let's get to it! Here come the prizes!
Division I: Category Costumes
These are the prize categories that we award every year. They're based on our own costume categories here on the website: queens, goddesses and mythological figures, notable historical women, and glamorous stars.
Best Queen Costume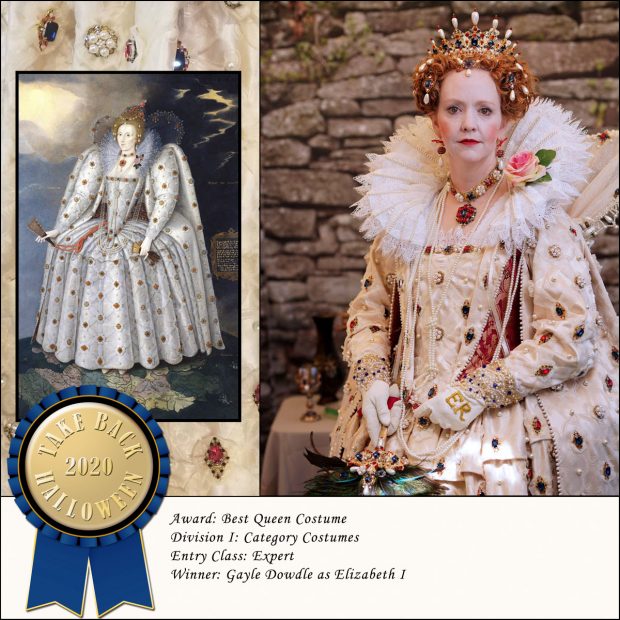 Winner, expert class: Gayle Dowdle as Elizabeth I.
Feast your eyes on the magnificence! Gayle spent a couple of years working on this dress, which is modeled after the Ditchley portrait. The detail is absolutely incredible. I bet if the real Elizabeth R had had to make her own dresses they would have been one heck of a lot simpler. Smocks, maybe. Anyway, Gayle has photos of the dress construction over at her Dowdle's Costumes Facebook page.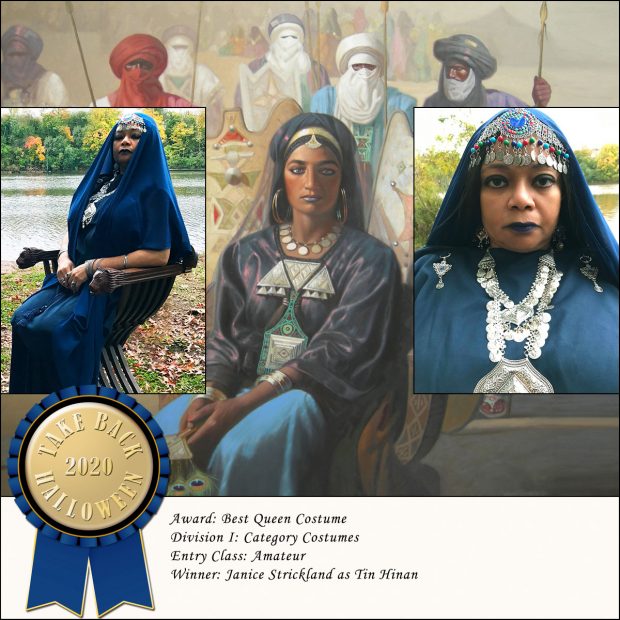 Winner, amateur class: Janice Strickland as Tin Hinan.
Janice strikes again! This is the third time Janice has taken one of our older costumes, from before we had models, and brought it beautifully to life. This is Tin Hinan, legendary queen of the Tuareg, as depicted in the wonderful painting by Hocine Ziani. Janice looks every inch the part.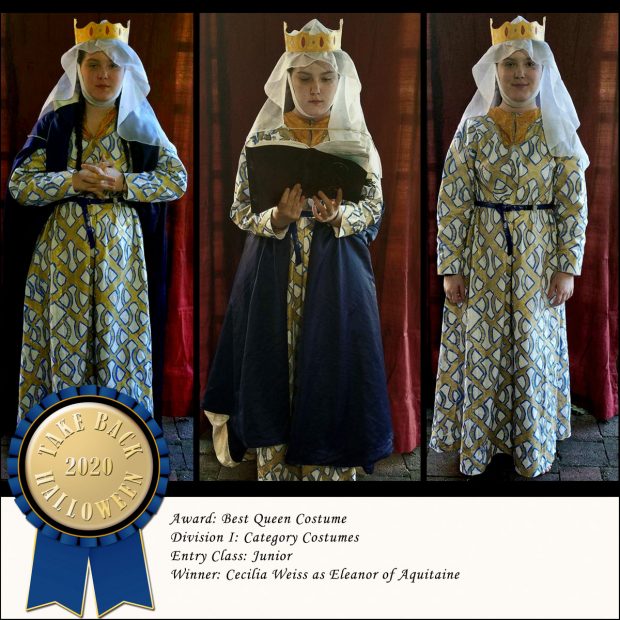 Winner, junior class: Cecilia Weiss as Eleanor of Aquitaine.
Is this incredible or what? Cecilia is only 15 years old and made this costume herself, based on Eleanor of Aquitaine's tomb effigy. She created the pattern through the draping method and hand-painted the fabric. That's some serious costume chops!


Best Notable Woman Costume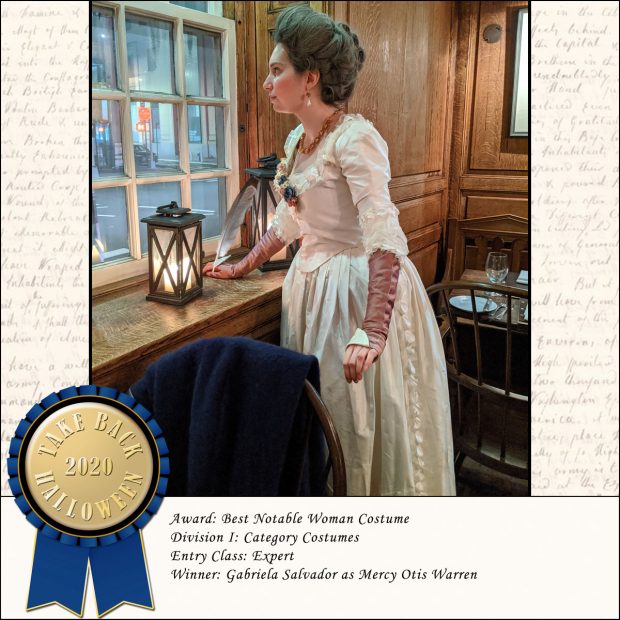 Winner, expert class: Gabriela Salvador as Mercy Otis Warren.
Mercy Otis Warren was a stone cold genius who perhaps more than any other person is responsible for the Bill of Rights. Even Jefferson was in awe of her intellect. Gabriela portrays her in 1780s high style, which is exactly appropriate. Every bit of this is perfect and beautiful. (Also, there is nothing on this earth more lovely than cream colored silk.)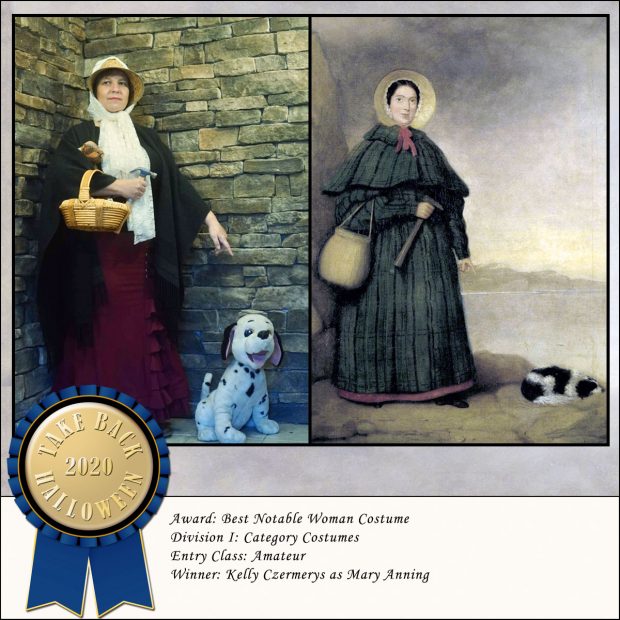 Winner, amateur class: Kelly Czermerys as Mary Anning.
Kelly is a science teacher and says it's a tradition for her to dress as a woman scientist each year for Halloween. This is a wonderful depiction of the great Mary Anning, fossil hunter extraordinaire. Bonus points for the stuffed Dalmatian in the role of Tray, Mary's beloved dog.


Best Glamour Grrl Costume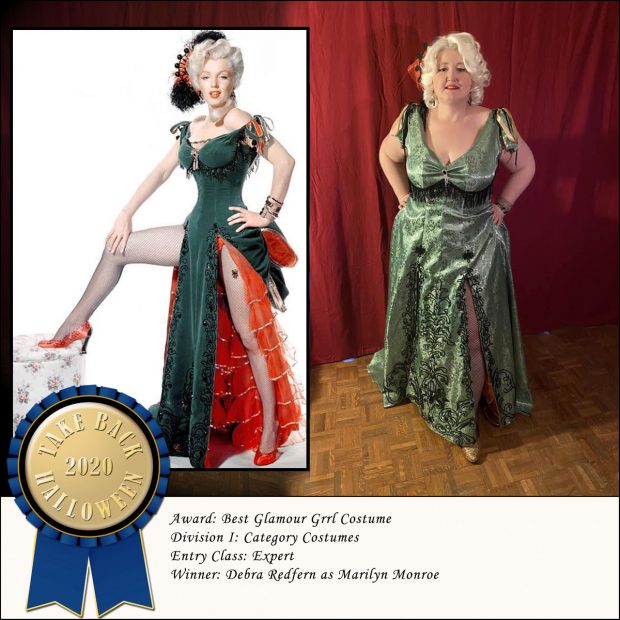 Winner, expert class: Debra Redfern as Marilyn Monroe.
For future archaeologists attempting to make sense of this contest: let it be known that if Debbie had wanted to create a perfect replica of Marilyn's green gown in "River of No Return," she certainly could have. She's an expert! But this particular costume was created for a contest (not this one) where the challenge was to make an outfit in 30 days for under $30. This whole outfit is strung together from cheap table runners, shoelaces, zip ties, and orange shower poufs. Which frankly makes it all the more amazing.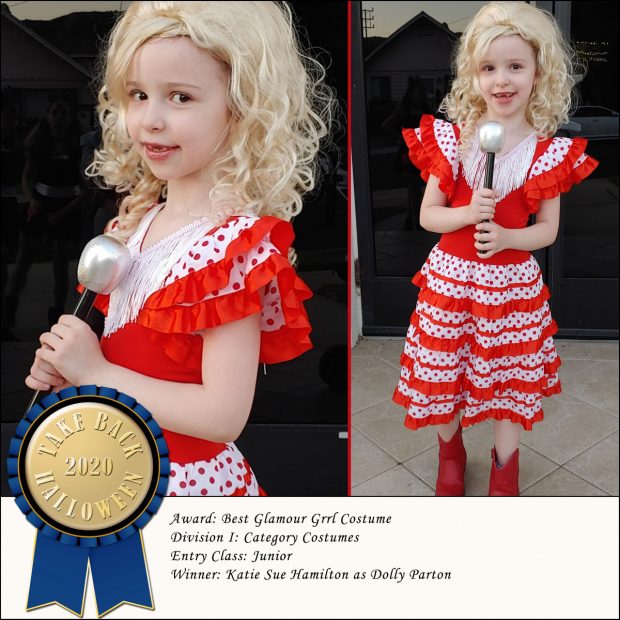 Winner, junior class: Katie Sue Hamilton as Dolly Parton.
We don't actually encourage "glamour" for 7-year-olds. Glamour Grrls is just the category we use for Hollywood stars and modern celebrities. Little Katie Sue is precious as Dolly Parton, and her mom Anne says she "wowed her fans with her renditions of 'Jolene,' '9 to 5,' and 'Coat of Many Colors'!"


Best Mythological Costume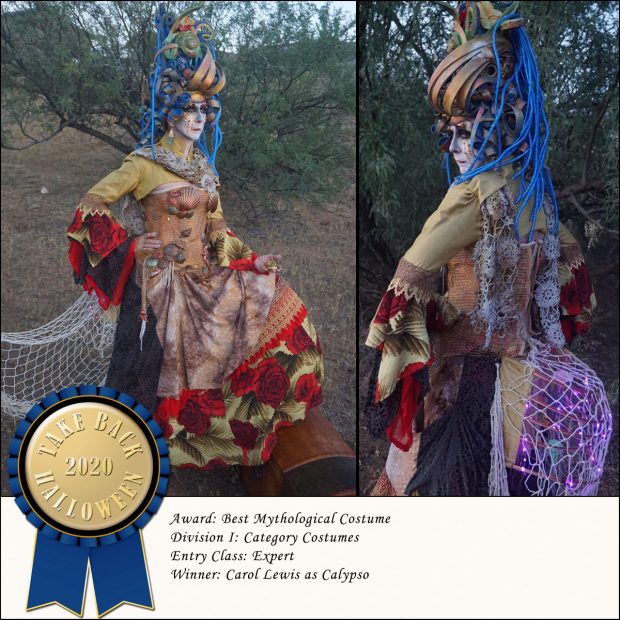 Winner, expert class: Carol Lewis as Calypso.
Calypso is the sea nymph who keeps Odysseus captive for seven years in the Odyssey; I've always pictured her as a Greek goddess on a sunlit Mediterranean isle. Carol takes a cue from Pirates of the Caribbean and re-imagines her as a baroque shipwreck, with a lobster pot for a bustle and a pool noodle coming out of her head. It's a vision both hilarious and unsettling.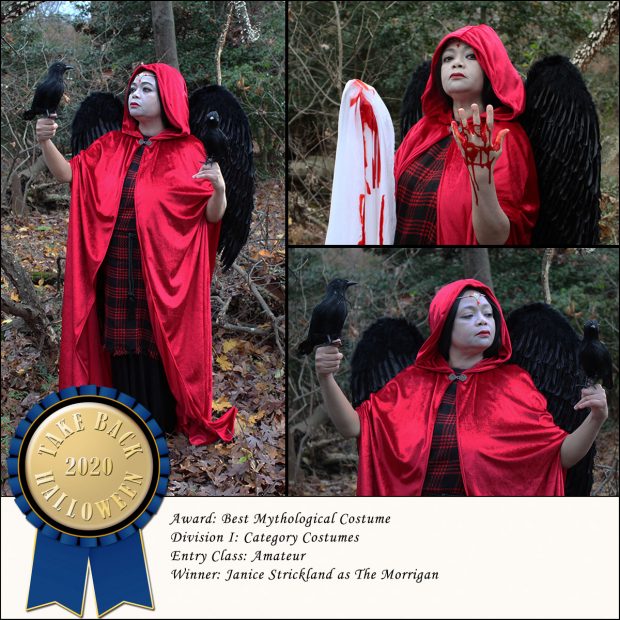 Winner, amateur class: Janice Strickland as The Morrigan.
This has never happened before: the same person has won both Best Queen Costume and Best Mythological Costume. It's like the Academy Awards! Janice Strickland is our very own Scarlett Johansson, though I don't know if Scarlett will be as successful. Both of Janice's costumes this year were just unbeatable. The Morrigan is one of our favorite costume designs, and Janice has taken it up a notch with the addition of huge wings instead of feathers around the neck. Truly spectacular.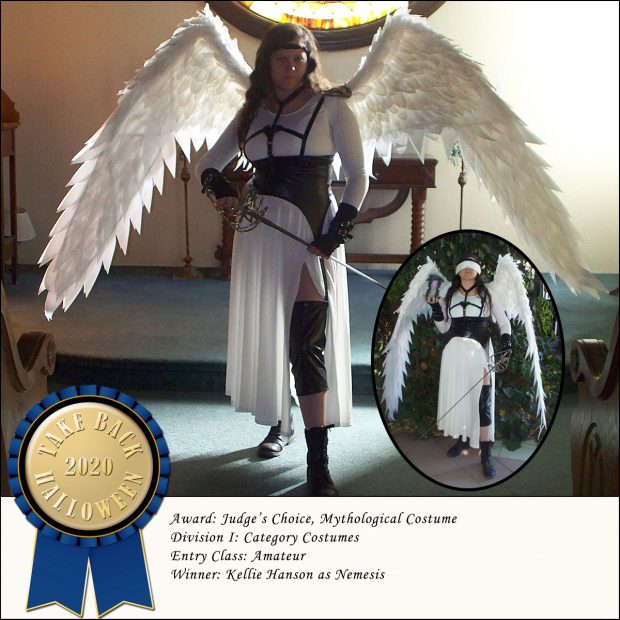 Winner, Judge's Choice: Kellie Hanson as Nemesis.
Need an avenging angel? Kellie's got you covered. Be careful of her when she's wearing that blindfold, though. No telling where that sword will end up! In all seriousness, this is a terrific costume. I love the simplicity of it, the stark contrast with the white and black, the humongous wings, the, um, leather attire that lends a foreboding air. She may have angel wings but buddy, if you have done wrong she is going to slice you up.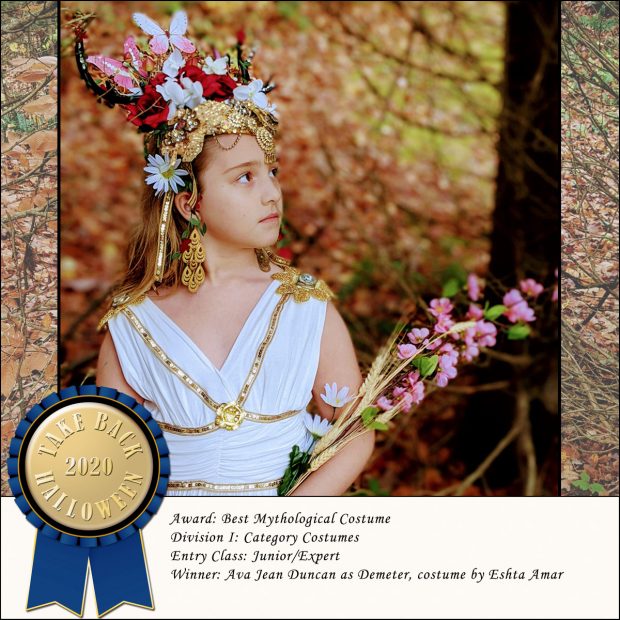 Winner, junior/expert class: Ava Jean Duncan as Demeter, costume by Eshta Amar.
The "junior/expert" entry class here is because Ava Jean's mom, Eshta Amar, is a professional costumer. (You can tell.) What's revelatory about this costume is that Eshta has chosen to present Demeter in the way that Hindu gods are typically portrayed. I don't think I've seen that before, and it's marvelous. The bejeweled gown and headpiece are exquisite, and the slender sheaf of wheat and wildflowers is the perfect finishing touch.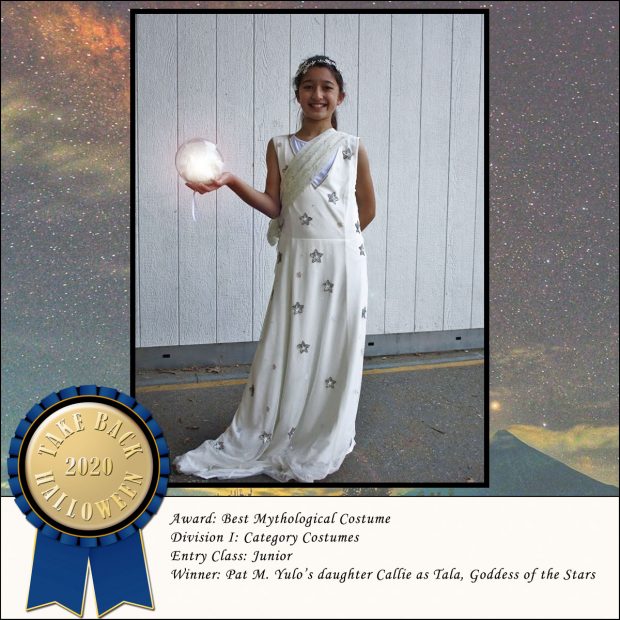 Winner, junior class: Pat M. Yulo's daughter Callie as Tala.
This is our "regular" junior class winner: a delightful costume put together by Pat and her daughter Callie. Tala is the demi-goddess of the night stars in Philippine mythology, and Pat explains that "in stories, she is depicted holding a light orb or sphere to guide travelers home." I hope Pat and Callie will forgive me for adding a tiny lens flare to Callie's orb. I couldn't resist!


Best Realization of a Take Back Halloween Design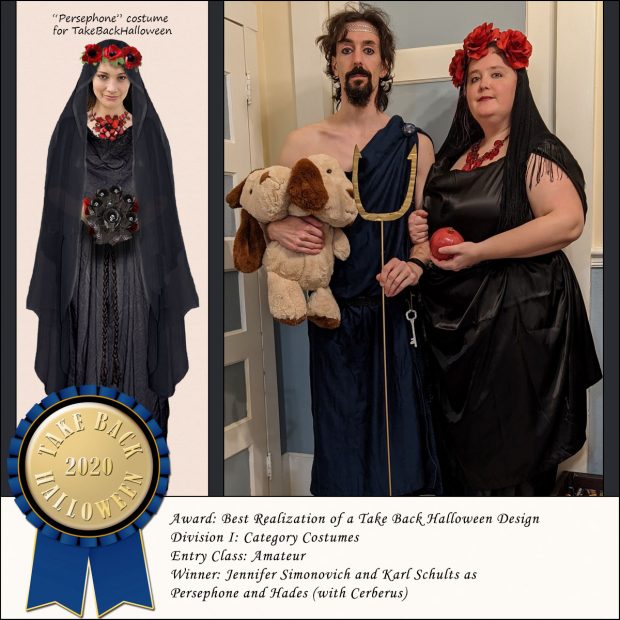 Winner: Jennifer Simonovich and Karl Schults as Persephone and Hades.
Somebody once commented that the only thing our Persephone costume needed was a Hades, and here Jenn's gone and done it. Not only is Karl a most excellent Hades, but Jenn has gone a step further and crafted a Cerberus out of three stuffed dog toys. Perfect!


Division II: Masquerade
This division includes Fiction, Fantasy, Period Costumes, and Historical Recreations. Our Fiction and Fantasy categories sort of collapsed in on each other, because virtually every fictional character is also some sort of fantasy creature or magical being or sci-fi hero. People aren't dressing up as characters from Edith Wharton novels is what I'm saying. For the purpose of prizes, we put science fiction and classic fairy tales in the Fiction category, and everything else in the Fantasy category.
Best Fictional Character Costume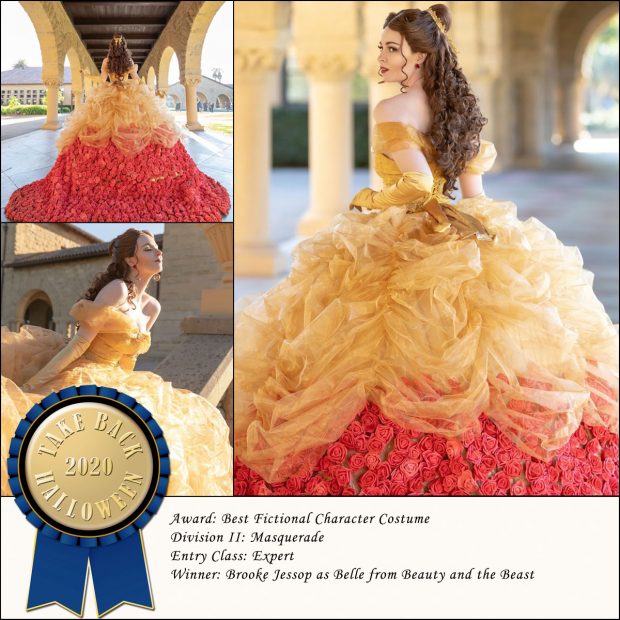 Winner, expert class: Brooke Jessop as Belle from Beauty and the Beast.
Brooke re-interprets Belle's iconic yellow dress in a beautiful buttery gold, and then kicks it into the stratosphere with a breathtaking train of roses. This is a marvelously inspired design—perfect for the fairy tale in every way—and flawlessly realized. Just outstanding.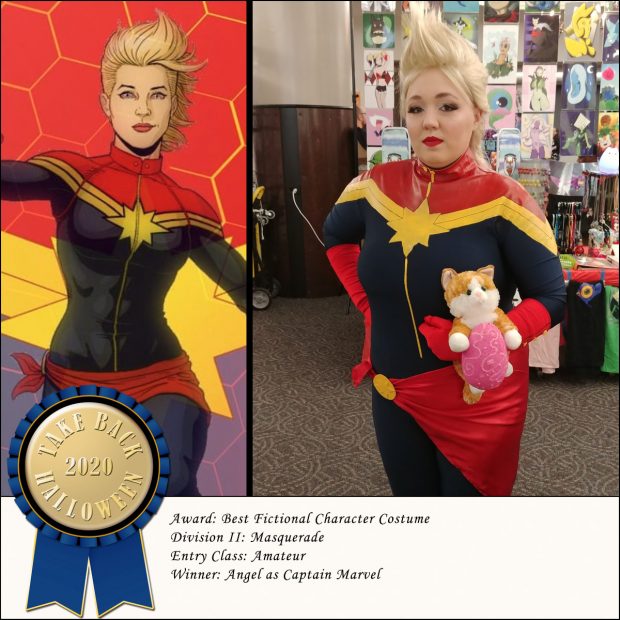 Winner, amateur class: Angel as Captain Marvel.
Disney princesses are beautiful, but it's great that we're now starting to have some female movie heroes who wear pants, have jobs, and kick ass. None is more popular than Captain Marvel, and Angel does a great job here with the costume. The hair is perfect! And the flerken (with an egg!) is a winning touch.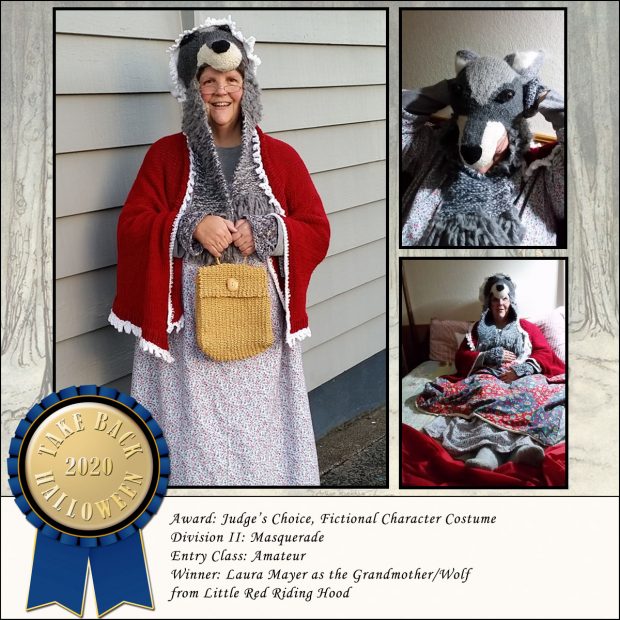 Winner, Judge's Choice: Laura Mayer as the Grandmother/Wolf from Little Red Riding Hood.
I just think this is adorable. And so clever! We can think of this as the Wolf in disguise as the Grandmother, but we can also imagine that we're witnessing the terrible moment when the wolf swallows the grandmother whole. There she is, peeping out from his gullet! Man, fairy tales are gruesome.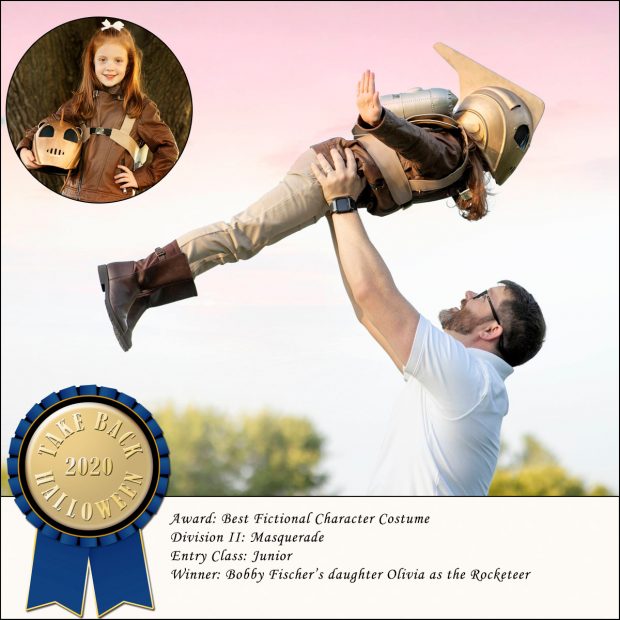 Winner, junior class: Bobby Fischer's daughter Olivia as the Rocketeer.
Doesn't this picture just make your heart sing? The costume is pretty good too. The helmet and jetpack were 3D printed and finished by Bobby with some help from Olivia, and the whole thing is a beautiful tribute to father-daughter teamwork.


Best Fantasy Character Costume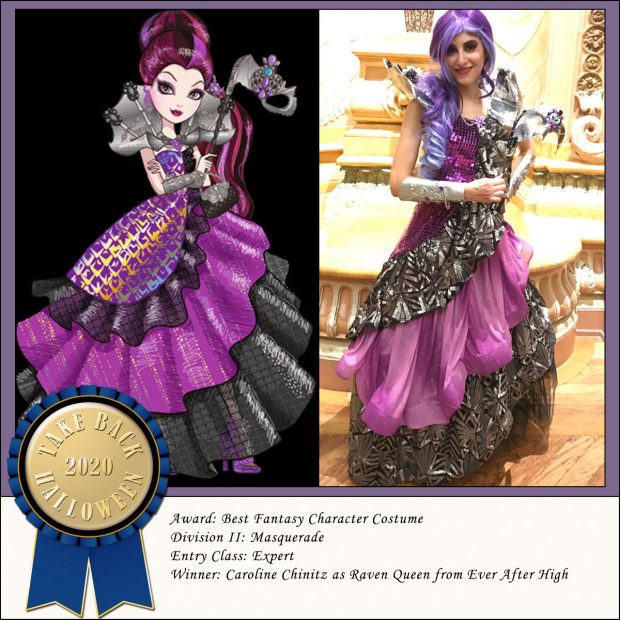 Winner, expert class: Caroline Chinitz as Raven Queen from Ever After High.
We put Raven Queen in the Fantasy category because, even though she's supposed to be the daughter of the Evil Queen from Snow White, she's not a classic fairy tale character. Actually, she's a doll. Mattel created the Ever After High doll franchise as a spin-off from its super-successful Monster High doll franchise. Splitting hairs, I grant you, but we had to find a way to divide things up. Anyway, this is a fabulous costume! Caroline absolutely nailed it. A sewing genius!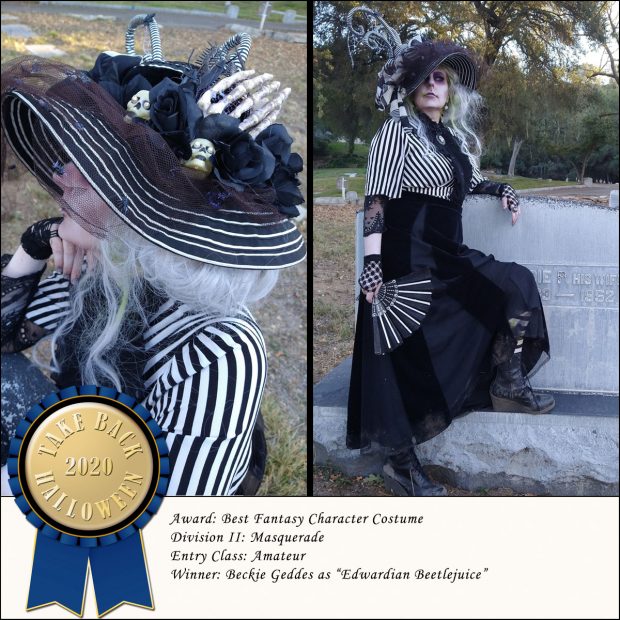 Winner, amateur class: Beckie Geddes as "Edwardian Beetlejuice."
This whole costume is terrific, but my favorite part is the hat. The skeleton hand! The skulls with pearls for eyes! The spiders! The, um, stripey things! What are those stripey things, Beckie? Anyway, great costume. Gender-bent and dislocated in time, but still Beetlejuice.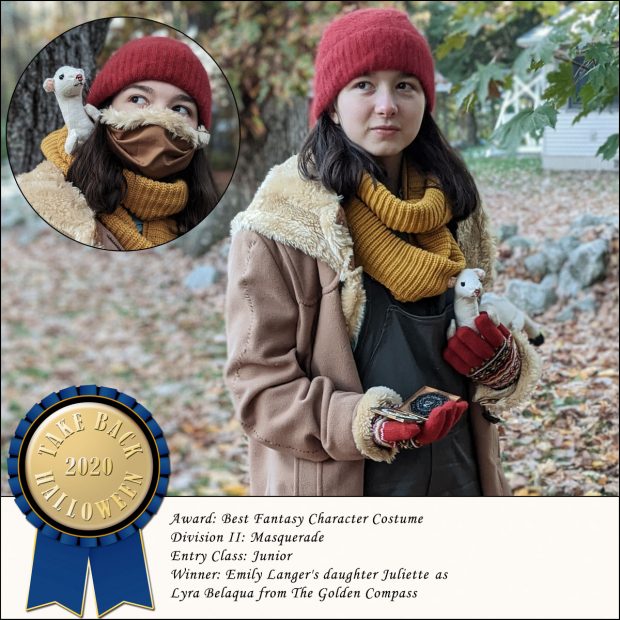 Winner, junior class: Emily Langer's daughter Juliette as Lyra Belaqua from the Golden Compass.
I love this mother-daughter effort. Emily made the overalls, the mask, the adorable stuffed Pantalaimon, and modified a second-hand coat and shirt; Juliette made the truth-telling alethiometer prop out of a vintage compact, foam, gears, and found objects from the button box. Beautiful!


Best Period Costume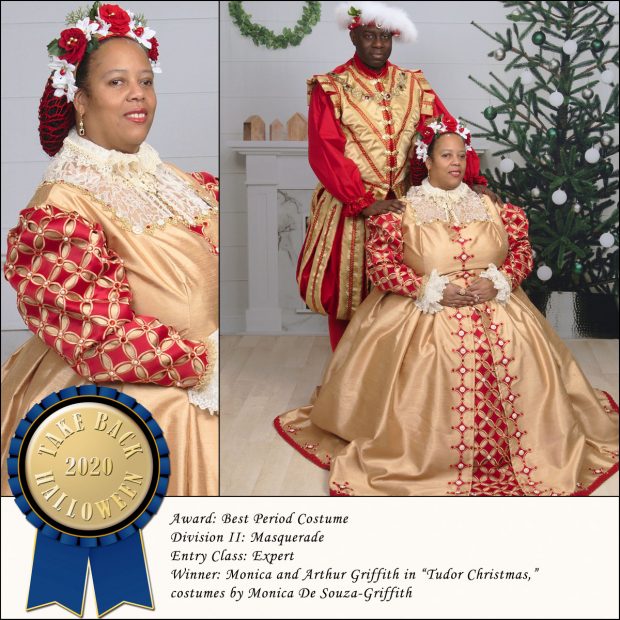 Winner, expert class: Monica and Arthur Griffith in "Tudor Christmas," costumes by Monica De Souza-Griffith.
Monica has outdone herself this time. This should be a Christmas card! Just look at these outfits: aren't they perfect? Aren't they exquisitely designed and finished? I'm no good at Facebook analytics, but I do know that Monica and Arthur's Tudor Christmas is one of the most popular contest entries we've ever posted. (Hmmm…maybe somebody *is* using it as a Christmas card…?) Not that this is a popularity contest, but it does go to show what a chord these costumes struck. Monica, you are a talented lady.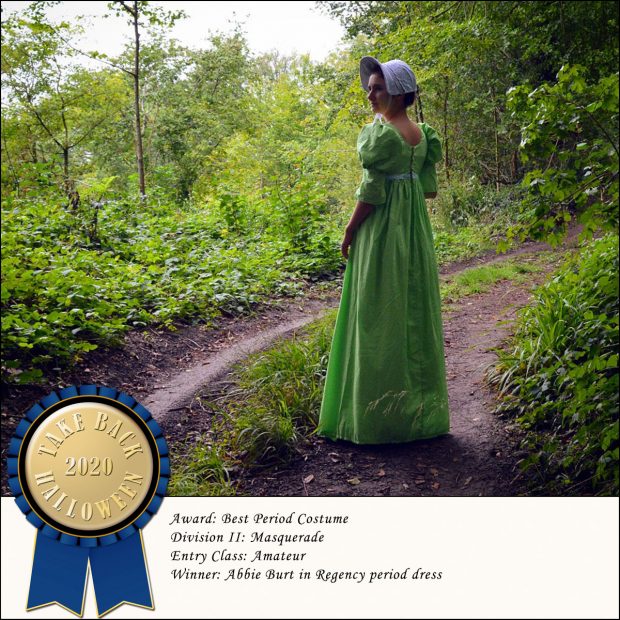 Winner, amateur class: Abbie Burt in Regency period dress.
And here's another talented lady, who's only 20 years old but is already sewing up a storm. This is Abbie Burt in a charming Regency period costume she made herself. Very clever of her to find a forest to match her dress!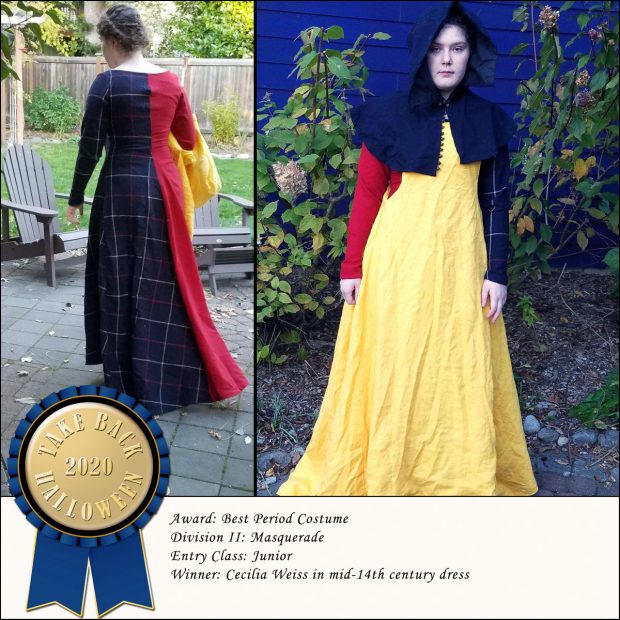 Winner, junior class: Cecilia Weiss in mid-14th century dress.
Cecilia is 15 years old, and not only did she make this outfit herself, but she made the pattern for it as well. And it was her first attempt at flat pattern-making! So, in case you're older than 15 and feeling inadequate, just…yeah. In all seriousness: Cecilia, you are fabulous. I can't wait to see all the amazing costumes you're going to design and create.


Best Historical Recreation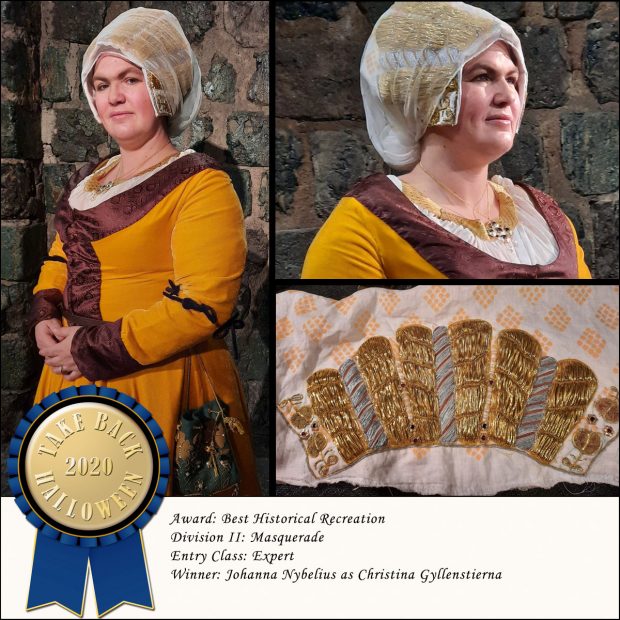 Winner, expert class: Johanna Nybelius as Christina Gyllenstierna.
What Johanna is recreating here is the kind of court dress Christina would have worn around 1520, particularly her gold hood. It seems that Swedish noblewomen in the early 16th century liked to embroider their caps with pure gold, which is…not the weirdest way wealthy elites have chosen to show off their status. Certainly gets the message across. "Look at all the gold thread on my head!" Anyway, Johanna did an enormous amount of research and mastered new embroidery skills to pull this off. The whole outfit is magnificent.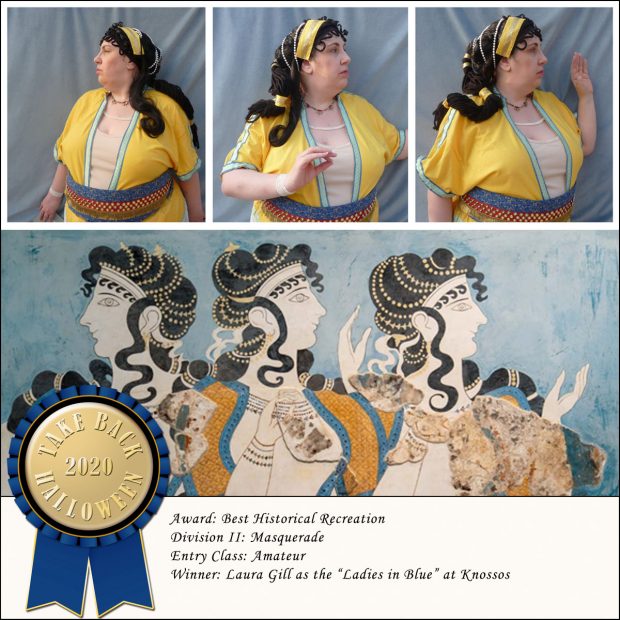 Winner, amateur class: Laura Gill as the "Ladies in Blue" at Knossos.
This is fun! Laura Gill is all three of the Minoan "Ladies in Blue," as excavated by Arthur Evans and imaginatively (*cough cough*) reconstructed by Emile Gilliéron. Laura has a real knack for these archaeological recreations, and has taken home the prize several times. Laura, do the bull leapers next!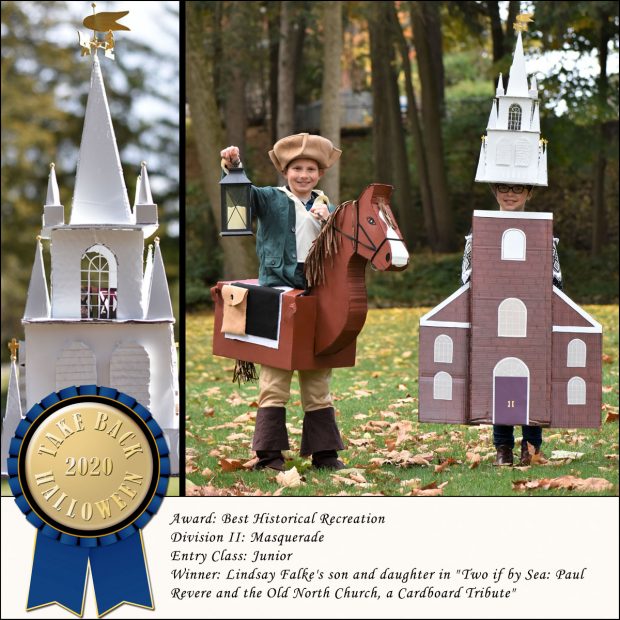 Winner, junior class: Lindsay Falke's son and daughter as Paul Revere, his horse, and the Old North Church.
"Historical Recreation" is supposed to be for clothes, not buildings and horses! Just kidding. This entry is utterly charming and thoroughly ingenious. The whole thing is basically made out of cardboard and hot glue. It's brilliant. Kudos to the Falke family! (By the way, the horse's name is Brown Beauty.)


Division III: Zeitgeist 2020
This division is for our special 2020 costume prizes. We have Trailblazer Tributes, Quarantine Creations, and Marvelous Masks.
Trailblazer Tributes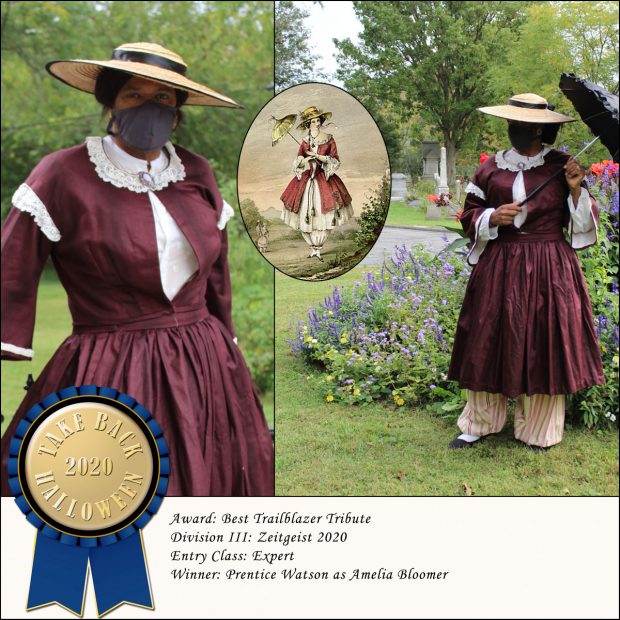 Winner, expert class: Prentice Watson as Amelia Bloomer.
I LOVE THIS COSTUME! I love that it's Amelia Bloomer, I love how well done it is, I love seeing the dress reform style in real life, and I love the beautiful outdoor photo shoot. Do you ever think about how brave those women were? And imagine if we had a time machine and could show them how we live now, in the Age of Sweatpants.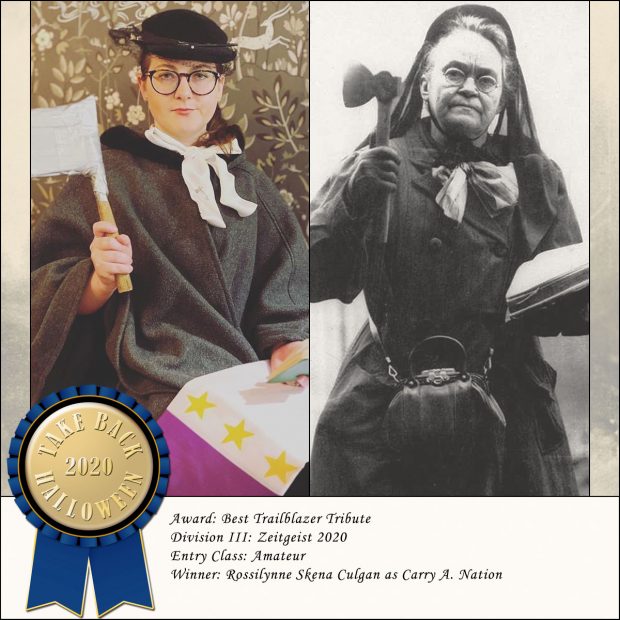 Winner, amateur class: Rossilynne Skena Culgan as Carry A. Nation.
People remember Carrie Nation (or Carry A. Nation, as she liked to style herself) as a saloon smasher, but fewer remember that the temperance movement was a huge part of Feminism version 1.0. Nowadays we're more likely to see fundamental power structures as the central issue, with substance abuse an aggravating factor (or symptom, as the case may be). But things weren't so clear in Carrie's day. In a world where women were almost 100% at the mercy of male whims (physically, financially, socially, legally), getting rid of drunkenness seemed like an outstanding idea.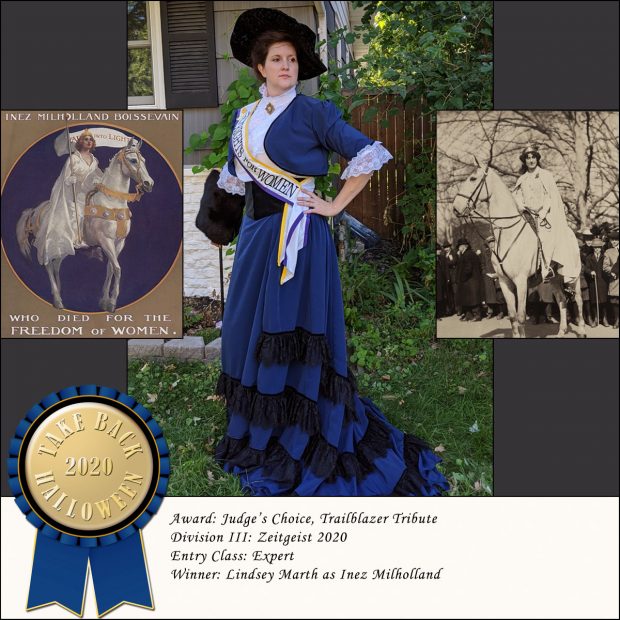 Winner, Judge's Choice: Lindsey Marth as Inez Milholland.
What would our trailblazer tribute be without Inez Milholland? Inez was the real deal: a labor lawyer, socialist, free love advocate, and redoubtable suffragist who was famous for showing up at marches on her horse. She was only 30 when she died from exhaustion and pernicious anemia—four years before the 19th Amendment FINALLY granted American women the right to vote.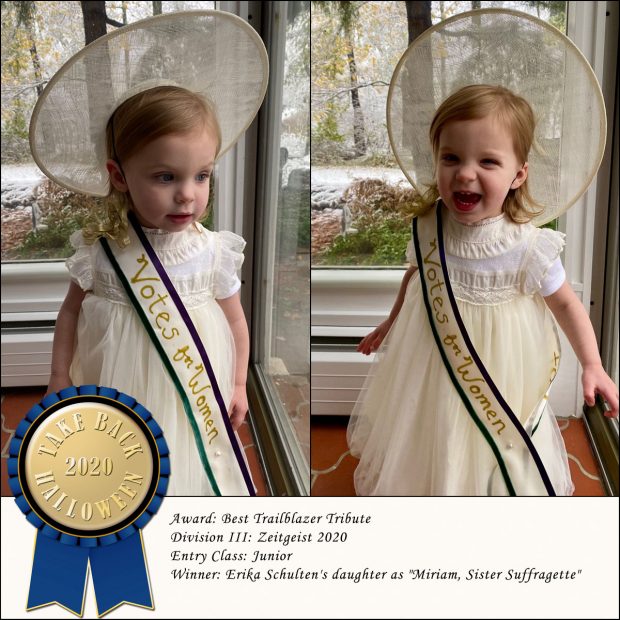 Winner, junior class: Erika Schulten's daughter as "Miriam, Sister Suffragette."
Squeeeee!!!! So precious! Erika created such a beautiful costume for her little girl. She writes: "All the colors represent the colors used by the American suffragists to denote loyalty (purple), quality of purpose (white), and the torch of guidance (gold). I also opted to include a green ribbon, representing hope, to additionally pay homage to the Sisters in Britain who came first." Wonderfully thought out and put together.


Quarantine Creations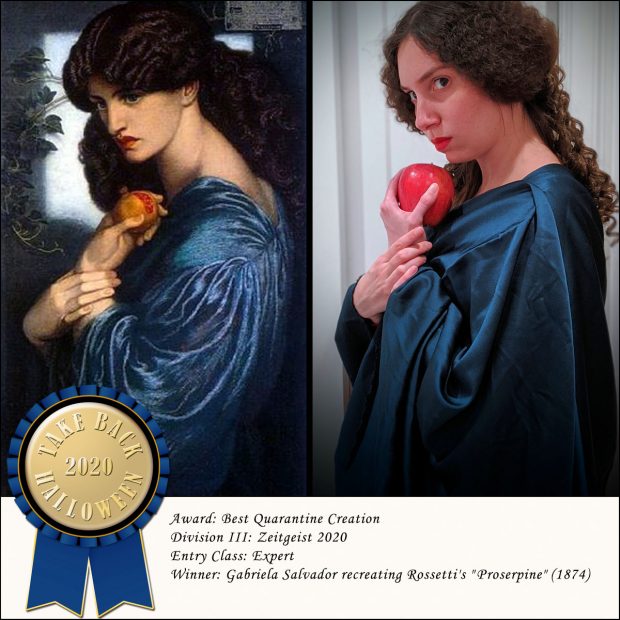 Winner, expert class: Gabriela Salvador recreating Rossetti's "Proserpine" (1874).
Ah, the Pre-Raphaelite Brotherhood. Or as I think of them, Brotherhood of Dudes Obsessed with Jane Morris. One of the things I love about the quarantine art genre is the way it exposes the deep weirdness in famous paintings. "I just want to be alone with my pomegranate, okay? OKAY???"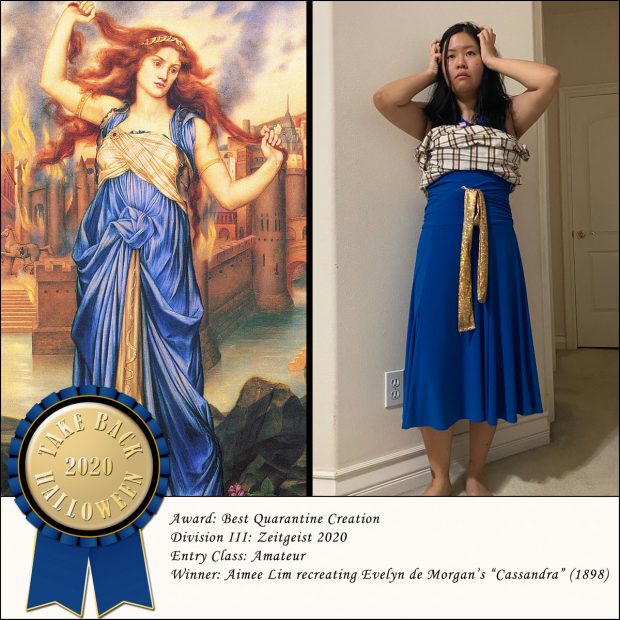 Winner, amateur class: Aimee Lim recreating Evelyn De Morgan's "Cassandra" (1898).
The burning question in my mind whenever I look at this painting is, "what the heck is going on with that fabric? What's making it bunch up like that in the middle?" I feel that Aimee has wrestled with this issue as well, and has very sensibly just tucked a piece of gold lame into her waistband. God knows what De Morgan did in the studio. A rubber band?


Marvelous Masks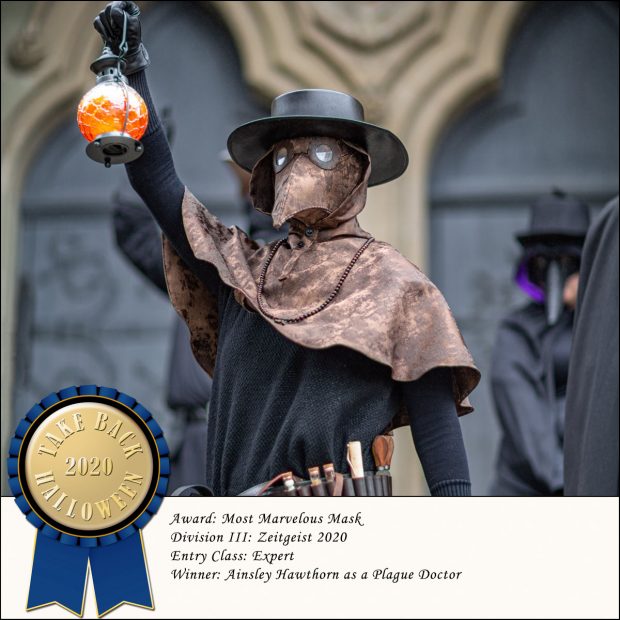 Winner, expert class: Ainsley Hawthorn as a Plague Doctor.
You knew this was coming, right? Not only did Ainsley create her own Plague Doctor outfit, replete with period-appropriate mask, but she organized a whole March of the Plague Doctors in her town (and then again in another town). All the feels. Instant winner.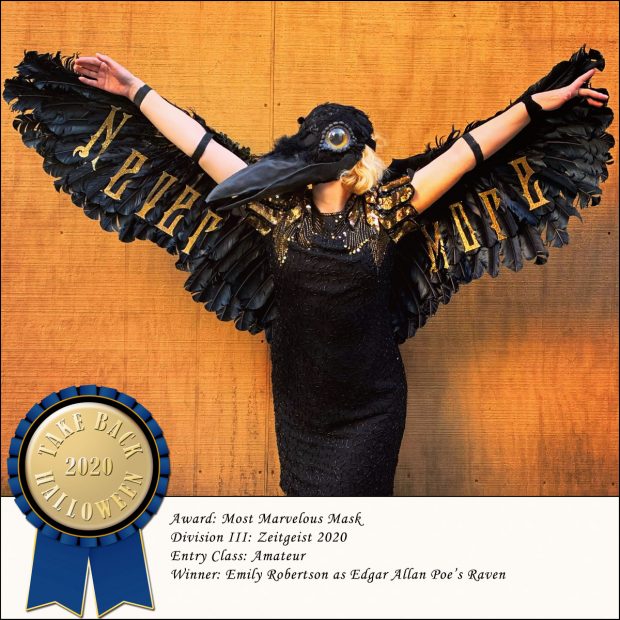 Winner, amateur class: Emily Robertson as Edgar Allan Poe's Raven.
Wowza! The pictures Emily originally sent with her entry were kind of small, so I emailed her to see if she had any bigger ones. Imagine my reaction when I opened this up.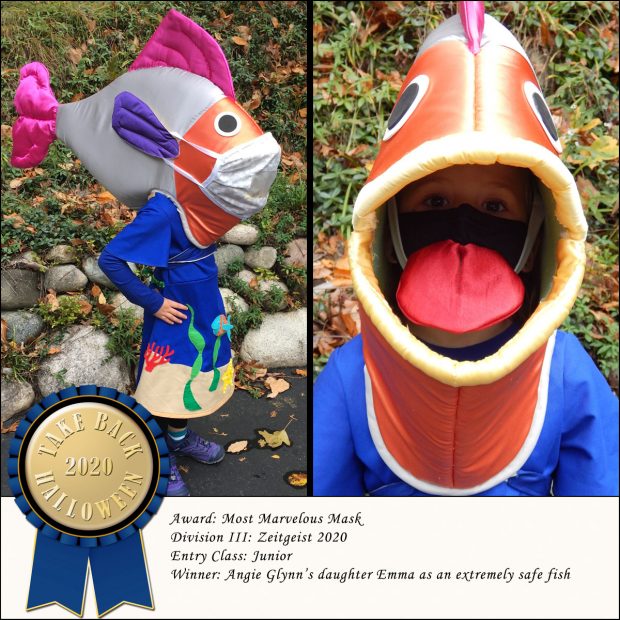 Winner, junior class: Angie Glynn's daughter Emma as an extremely safe fish.
Folks, it just doesn't get any safer than this. Not only is Emma wearing a mask inside the fish costume, but the fish is wearing a mask too. Personal protective equipment for all vertebrates!


Zeitgeist Fashion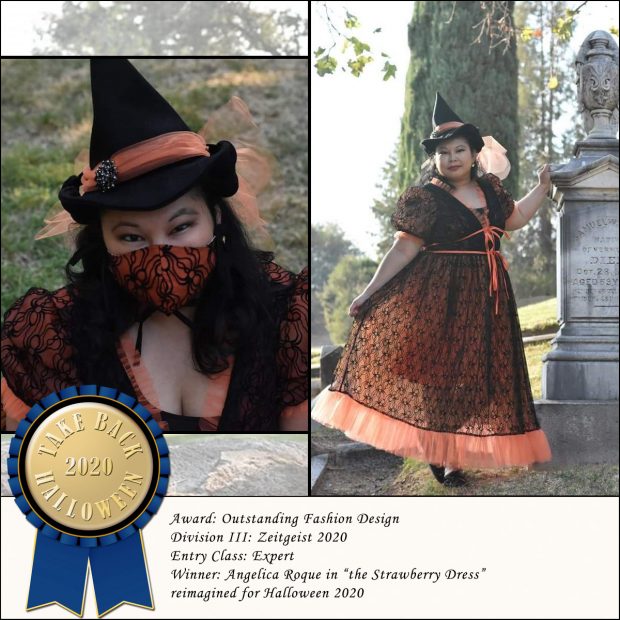 Winner, expert class: Angelica Roque in "the Strawberry Dress" re-imagined for Halloween 2020.
Surprise award! This isn't a costume; it's the very essence of our 2020 hopes and fears distilled into one tea-length dress with matching hat and mask. I love everything about this. The best of the strawberry dress, a beautiful Halloween palette, exquisite net work, romantic tulle or chiffon on the hat, and the gorgeous mask that picks up the same fabric as the dress. Plus cemetery, plus death, and we're there. 2020.