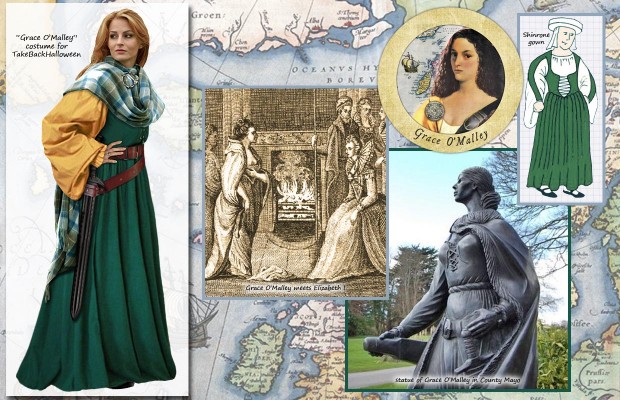 UPDATE: Okay, you've convinced me. Here, on Facebook, by email—everyone thinks Grace should be a queen. So we're switching her over.
****
I was just about to publish our new costume design for Grace O'Malley (above), when I realized I wasn't sure what category to put her in. Although I refer to her in the text as a queen by her own lights, my instinct is to list her in the Notable Women category. That's where she is for now. But was she a queen?
Obviously Grace wasn't the enthroned queen of a state, like Victoria or Hatshepsut or Wu Zetian. She was a clan chieftain and local strongwoman, with castles along the coast in County Mayo and ships patrolling the waters. References to her as the "Queen of Clew Bay" or "Queen of the Umaill" rely on the traditional Irish usage of the word "king" for all manner of rulers, including local petty chiefs. It's not at all the kind of kingship or queenship that we associate with state-level formal power.
But looking over the women who are already in our Queens category, it's a mixed bunch. Despite being referred to as queens in the historical record, in reality many of them were just local and tribal chiefs. Boudicca was the queen of the Iceni, a tribe in southeast Britain. Tomyris was the queen of the Massagetae, a nomadic confederation in Central Asia. Lady Six Monkey probably ruled over a single city. The mysterious and semi-legendary Tin Hinan may not have ruled over anything at all.
What do you think? Should we leave Grace O'Malley in the Notable Women category or move her to Queens? If you were looking for a Grace O'Malley costume, where would you expect to find it?