In the final run-up to Halloween, we're offering tips on how to do last-minute, stripped-down versions of some of our popular costumes.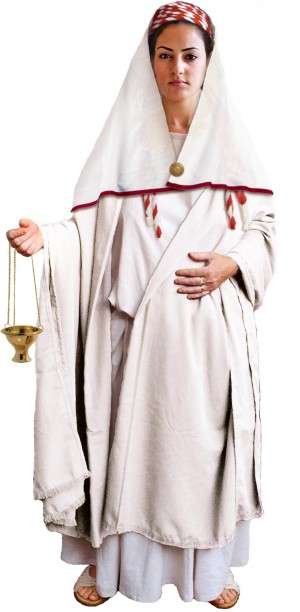 Our Vestal Virgin outfit is the bedsheet costume to end all bedsheet costumes. It's almost nothing but sheets. Plain white sheets. The only other thing you need is a scrap of something red to tie around your head: red yarn, a red scarf, a strip of red fabric.
Our full-blown Vestal Virgin costume is shown at right. Here's the last-minute version:
If you have two white flat sheets, you can pin them together as an Ionic chiton (tunic). If you have only one flat sheet, you can fold it around you as a Doric chiton. The instructions for both kinds of chiton are on our Hypatia page (which, by the way, is another bedsheet costume suitable for last-minute styling). If you can't manage the chiton thing, just wear a long white dress—like a maxi dress, a lounger, even a plain nightgown.
Take another white sheet and drape it around your shoulders as a big shawl.
Tie a piece of red something around your head. A red scarf, some red yarn, anything red.
Drape another piece of white material over your head as a veil. A white pashmina, a white curtain panel, even a white pillow case with the seams opened up.
And that's it. You're now a Vestal Virgin, one of the highest-ranking women in all of Rome. You can sit at the right hand of the emperor, travel in a litter accompanied by bodyguards, and even do something no other woman could ever dream of doing: vote.



Tags : Last-minute costumes 1 Comments