Yesterday we launched our new Kickstarter campaign, timed to run through the witching season (aka the month of October). We're raising funds for a new year of Take Back Halloween, so that we can continue to make the world safe for creative and empowering costumes:
The popularity of our site (did you know that we're ranked #1 in Google for dozens of important women in history and mythology?) means that our costs have ballooned since last year. It is getting very expensive just to host the site. So we've divided our project into a basic funding goal, which is the minimum we need to guarantee a new season of costumes, and stretch goals to add more costumes.
Our basic funding goal will allow us to add six more costumes, with one of them to be voted on by our Kickstarter backers. We'll get the Bessie Coleman costume ready in time for Black History Month in February, and then do the vote for the sixth costume following Women's History Month in March. The rest of the costumes will debut at various points in the spring/summer of 2014.
We're also going to add some new site features to help people sort through our 80+ costumes: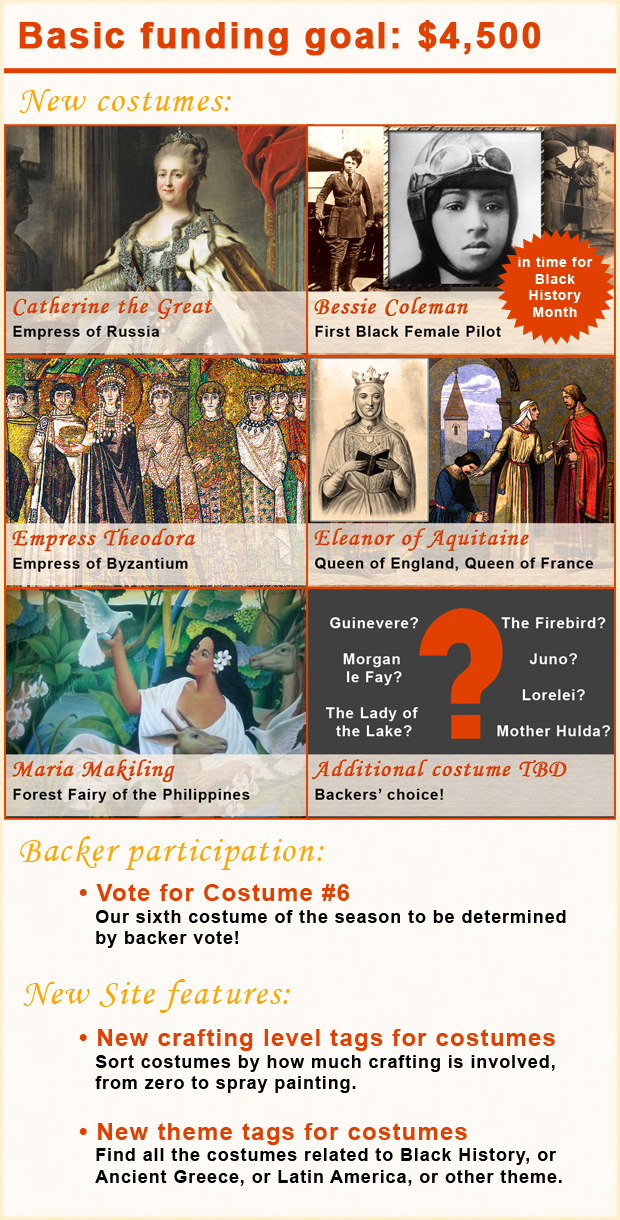 We will be thrilled just to raise enough money for the basic season. If we somehow raise more than that, we'll add more costumes, with even more opportunities for backer input. Here's a preview of the stretch goals we have in mind, just in case we get there: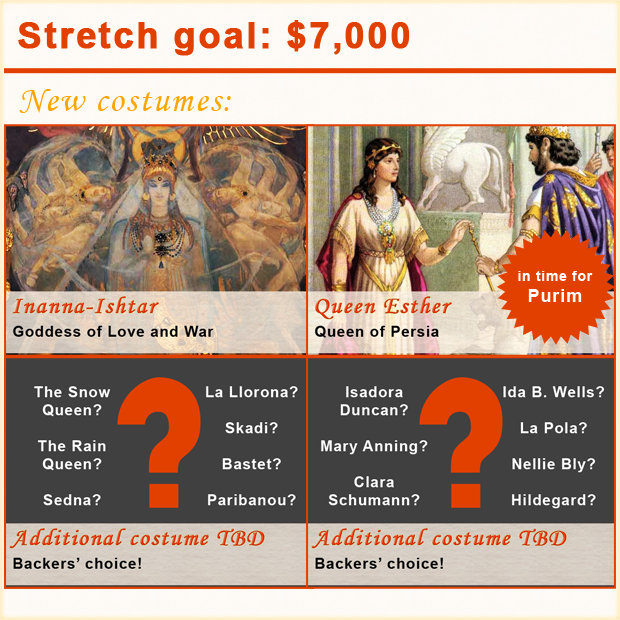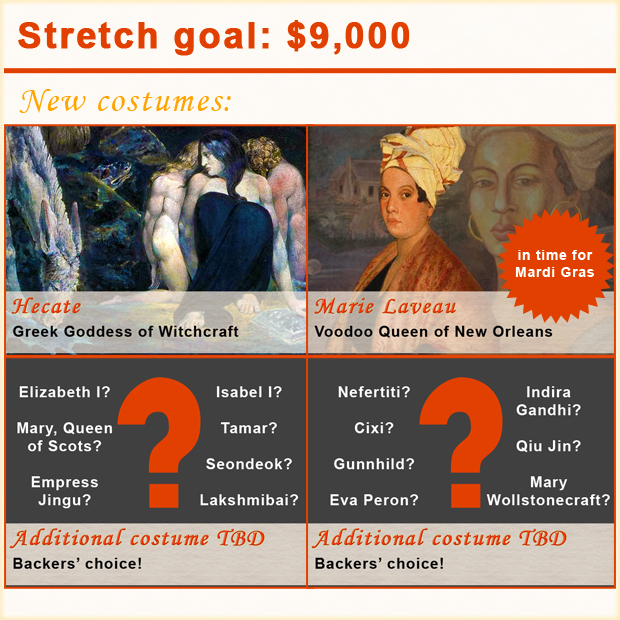 Rewards
It wouldn't be a Kickstarter without rewards: the goodies that backers get for helping to fund a project.
All our backers will be enrolled in the Voting List, which means you get to vote on the new costumes. You'll also receive our monthly newsletter with updates throughout the year.
For more tangible rewards, we've created a variety of small posters (8×10 and 11×14), available both as digital downloads and as professionally printed physical posters. These fit right into standard frames and mats, and make wonderful gifts. We'll be shipping all of them in time for the holidays.
We have previews of the posters here on our website, since it's not possible to upload really big images at Kickstarter: Poster Previews.
We also have a few commemorative pinback buttons left for those of you collecting them. They're available at the Button Collector/Named Sponsor tier ($65) and above. The buttons are very limited, so for non-button collectors at the $65 level we're offering an extra poster print.
At the Mojo Angel tier ($115), we'll send you one of our larger 18×24 posters. We have two designs at that size: the Timeline of Women in World History and our new Goddess poster.
Once again we're offering our super-generous backers the opportunity to commission a costume. If you'd rather commission a poster, we can do that too.
Here's the whole scheme at a glance: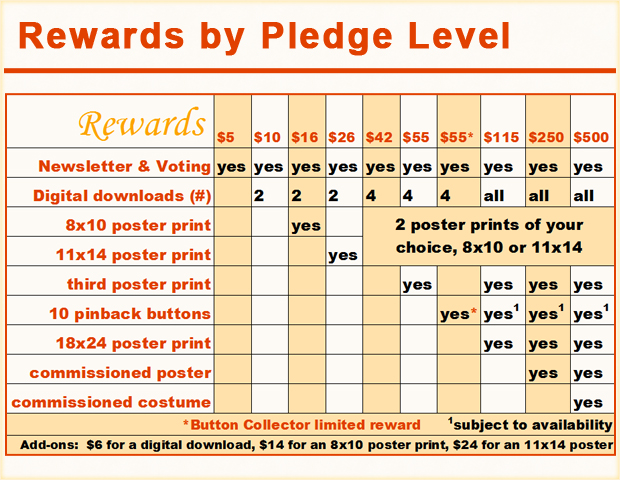 So head on over to our Kickstarter project page to read more, make a pledge, and help us take back Halloween!