Of all the great bird goddesses in world mythology, the Morrigan is surely one of the birdiest. This Irish goddess typically appears as a crow or raven hovering over the battlefield, feasting on the corpses of the slain. She's a carrion bird, basically; the Celts, like their Germanic neighbors, saw these birds as she-demons or goddesses who conducted fallen warriors to the great beyond. Even when the Morrigan appears as a woman, blood and gore aren't far away: her clothes are red, her eyes are red, her mouth is red. She stands in the ford of the river, washing the bloody clothes and armor of those about to die, up to her elbows in gore.
The Irish epics often describe the Morrigan as one of three sisters, all of whom are linked with battle and death. Sometimes the name "Morrigan" refers to one of them; sometimes it refers to the whole group. The screaming banshees of Irish legend are probably their folkloric descendants.
The Morrigan has a special connection with Halloween. According to Irish mythology, it was on Samhain that the Morrigan kept a tryst with the Dagda, the great father-god of the old Irish pantheon. Samhain became All Hallows Eve in Christian times, and ultimately our Halloween.

For your own rendition of the Morrigan, we propose Iron Age Celtic dress combined with bird feathers and makeup—plus two fake birds to perch on your shoulders as your sisters. The items we suggest, from left to right:
1. Garnet red flannel flat sheet to use as an unsewn tunic. The oldest kind of Celtic tunic was remarkably similar to the classic Doric chiton of Greece. All you need is a bed sheet and some safety pins; we give you instructions below on how to pin it together. You just need a flat sheet, not the whole set, though it can be difficult to find them sold separately.
2. Wool throw in Royal Stewart tartan to use as a cloak. This beautiful fringed throw isn't at all expensive—only about 60 bucks. But for an even thriftier alternative, just go to the fabric store and get two yards of Royal Stewart fleece or flannel. (Don't worry about the fact that this pattern is named after the Stewarts. Gaels and other Celts have been enjoying plaid since the Iron Age, long before the 19th century fad for assigning particular tartans to Scottish clans.)
3. Celtic circlet. Another Etsy shop that also carries a wide range of circlets is Moon Maiden Jewelry.
4. Two artificial ravens (8.5 inches long). These are much smaller than real ravens, but that makes them easier to attach to your costume. Use some Velcro on the plaid cloak to keep the birds perched on your shoulders. Check out Factory Direct Crafts for ravens in other sizes.
5. Mehron makeup kit for eyes plus optional red body paint for hands. Joyce Sola of CandyLoveArt did an Angry Birds makeup tutorial that shows how to do the eyes: video and blog post. You don't absolutely have to paint your hands red, but it does heighten the eerieness factor.
6. Feather choker: one yard of 2-inch wide black velvet ribbon and about one yard of 6-inch wide black hackle feather trim (cut into two lengths). This is extremely easy to rig up: just tape the pre-strung hackle feathers inside the wide velvet ribbon. Tie the loose ends of the ribbon in a knot at the back of your neck.
Choker diagram: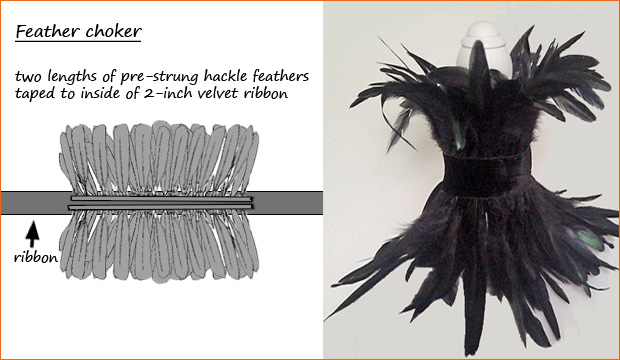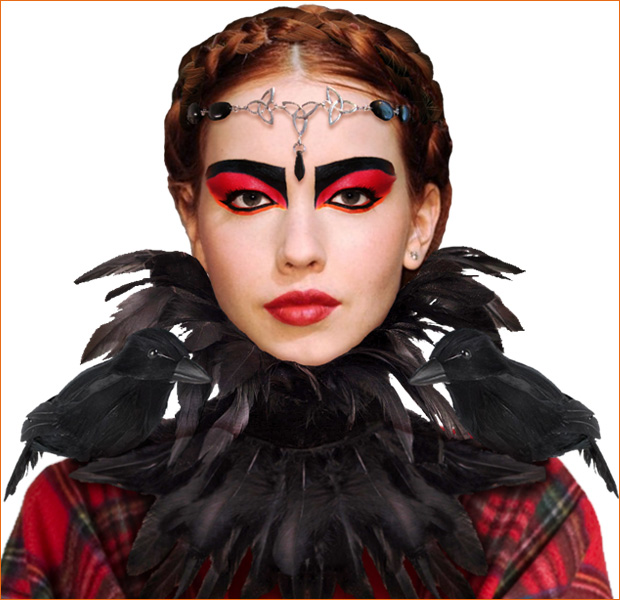 How to make a chiton: The ancient Doric chiton was just a single rectangle of fabric folded around the body. This became the jeans-and-T-shirt of the classical world, and was worn from northern Europe to the Mediterranean. In Celtic contexts it's often referred to as the "bog dress," because Iron Age versions of it have been recovered from peat bogs. All you need is a flat sheet, some safety pins, and a belt or cord: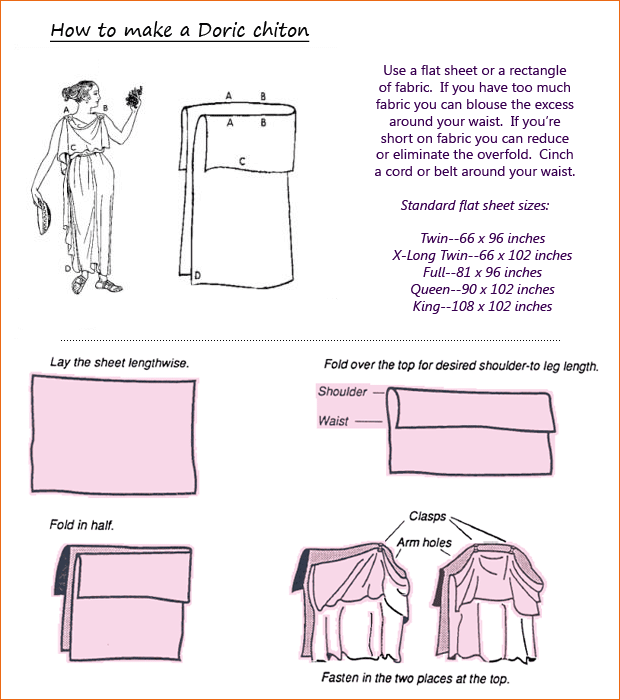 ---
Main illustration credits: The large watercolor in the center of our illustration is by Claudine and Roland Sabatier. It's a banshee from The Great Encyclopedia of Faeries by Pierre Dubois, published in 1996. The painting in the upper right corner is by Brigid Ashwood. The painting below that is by Laura Cameron, and you can buy a print of it right there in her shop.