Greetings from the depths of winter! As I write this there's a thick blanket of snow on the ground and ice on the windows. But it's cozy here in my workroom, which is draped in chiffon and velvet as I plot out the costume designs for the new season.
We have a very big year coming up. The Kickstarter campaign raised funds for 19 new costumes in 2014, including a number of wild card costumes that our backers will vote on.
Here's the full list of what's ahead:
New Costumes for 2014
(The first three are already scheduled; we haven't sorted out the order we'll do the others in yet.)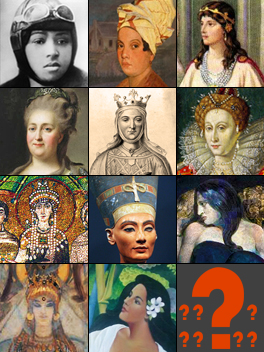 Bessie Coleman (coming up first, in time for Black History Month)
Marie Laveau (in time for Mardi Gras on March 4)
Queen Esther (in time for Purim on March 15)
Catherine the Great
Eleanor of Aquitaine
Elizabeth I
Empress Theodora
Nefertiti
Hecate
Inanna-Ishtar
Maria Makiling
5 additional costumes TBD* — will be voted on by backers
1 M/F couples costume TBD* — will be voted on by backers
2 special commission costumes (funded by individual Kickstarter backers)
*We've sent out the first round of surveys to our backers to gather suggestions for the To Be Determined costumes. Of course we already have a mile-long list of candidates, but we want fresh input from our supporters on who we should do next.