It's only two and half weeks away! Yesterday we published our new Esther costume, and though it looks dramatic as all get-out, it's actually very easy to put together.
The key items you need for this look are a fez and five yards of fabric. We used china silk polyester lining fabric—which, despite the name, isn't silk at all. It's just the lightweight silky fabric that's used to line garments. It's super inexpensive (usually $2 or $3 per yard), comes in a million colors, and flows beautifully as drapery. You can order it online or get it at any local fabric store.
You could also use a sari, which is the right length and would add even more richness to the costume. A five yard sari in royal blue would look wonderful.
You can leave your fez plain, but we dressed up ours with fancy ribbons and fringe in peacock colors: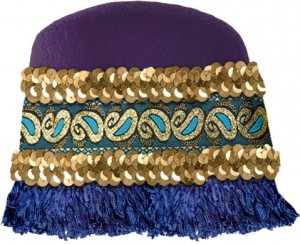 It's very simple to do: just glue or tape each length of trim right onto the fez. You'll need about 21 inches of trim for each row. It's okay if the back looks messy, since the blue drapery will cover it up. For the side tassels, just hook a pair of gold chandelier earrings onto the bottom row of sequins.
Finish off your look with bold gold jewelry and a gorgeous peacock fan from the craft store. And ta da! You're Esther!