Halloween Season 2011 is upon us. It's the week after Labor Day, and the stores are starting to stock up on costumes. For us, it's Year Two of our project to Take Back Halloween! The response to our website last year was incredible, and this year we're working overtime to make it even bigger and better: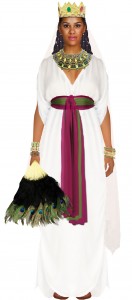 A picture is worth a thousand words, so this year we're uploading digital illustrations of all our costume designs. That's the Queen of Sheba to the right (click to embiggen). We're focusing first on the designs most in need of visual aids—the goddesses, several of the ancient costumes, etc.
We're checking all the product links to make sure the stuff is still available. And if not, we're hunting for replacements.
With all that updating and illustrating, we really don't have time to do new costumes—but we are anyway. Can't resist. Coming very shortly: Ada Lovelace, Sor Juana, Athena, Demeter, Jezebel…and more!
If you're in the middle of running down a costume and need help, don't hesitate to email us. If we haven't already updated the product links, we may nevertheless already know (from our endless window-shopping) where you can find the item you need.
Happy costuming!