Empress Carlota (1840-1927) is one of the most intriguing and tragic figures in Mexican history. Born Charlotte of Belgium, she married Archduke Maximilian of Austria when she was only seventeen years old. In 1863 the young couple were invited to become Emperor and Empress of Mexico. Unfortunately, the person doing the inviting was Napoleon III of France, and nobody consulted the Mexican people. It all ended very badly, with Maximilian dead via firing squad and Carlota hopelessly insane. She spent the rest of her long life locked away in various castles in Europe.
But Carlota's story isn't all misery. In her salad days she was a sharp thinker, a renowned beauty, and the owner of some very famous jewels. (They're still famous: one of her diamonds sold at auction in 2010 for 1.7 million dollars.) Our costume is inspired by the beautiful portraits made during those peak years, showing Carlota as the newly crowned Empress of Mexico. The pieces we suggest, from left to right: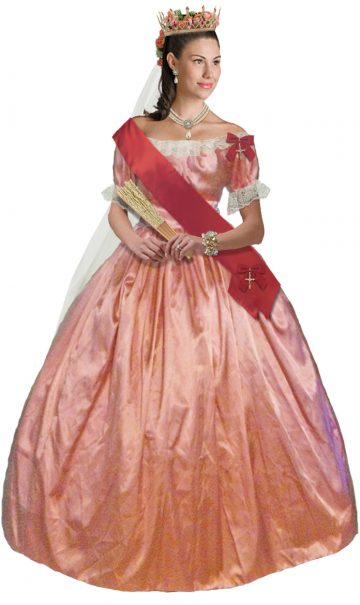 1. Peach satin ballgown with ivory lace trim. The seller's main picture of this gown is red, but the inset color card shows the options available. You'll need to specify the color of the satin and the lace when you order.
2. Five-bone hoop skirt. You absolutely must have a hoop skirt petticoat to make the dress pouf out. This one has a maximum bottom circumference of 149 inches, which means it will fit nicely under the dress in #1. (It can also be adjusted down.) You can also get a hoop skirt from the seller of the dress in #1 if she has it in stock. We also suggest a corset; it's not required, but it will give you the correct period silhouette.
3. The Imperial Order of Saint Charles. The red sash and ribbons Carlota is wearing in her portraits represent the Mexican Orden Imperial de San Carlos, of which she was the sovereign. Get a plain red sash from a party store; wear it over your right shoulder. To make the badges, get two cross pendants or charms (these from Firemountain are 2.3 inches long) and a couple of red velvet bows(the kind that are available everywhere during Christmas). Tie each cross pendant onto a bow so it dangles from the center. Pin one of these on your left shoulder and the other one on your sash where it crosses over your hip.
4. Tall gold crown plus veil and flowers. This is a better-quality crown, made of metal and rhinestones rather than plastic. To imitate Carlota's look, you'll also need to get some ivory tulle and silk flowers (if you get the little pinky-peach rose bouquets we suggest, just cut the stems and re-arrange the flowers as necessary). Use the tulle to make a wispy veil; pin it to your hair and secure with the crown. Arrange the silk flowers into a little wreath inside your crown, and pin a few to your veil trailing down the back as well.
5. Necklace, Earrings, and Bracelet Set (goldtone and cream). Carlota's jewels are so famous they have names: the Carlota Diamond, Carlota's Pearl (a huge pear-shaped drop). A costume jewelry set like this, with big faux pearls and diamonds, will give you the right look.
6. Ivory lace fan. From the Ladies' Emporium, which has all kinds of fun Victorian things.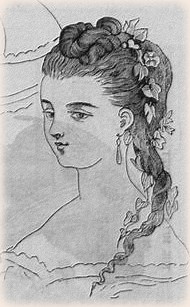 Hairstyle: In her imperial portraits Carlota wears the classic mid-Victorian upsweep, with the hair coiled into a ringlet that curls over the shoulder. The crown and veil will cover a lot of your hair, so mostly you just need to pull it up. If your hair isn't long enough to make that ringlet, you might try clipping in a ponytail extension.
Shoes: Evening shoes in the mid-1860s were usually low-heeled pumps. If you have some satin bridal shoes, that would be perfect.



Other costumes in this category: Queens