Queen Victoria (1819-1901) was the second longest-ruling female monarch in history, exceeded only by the late Queen Elizabeth II. People often think of her as the elderly widow of her later years, but the movie The Young Victoria and the ITV series Victoria reminded us that she was frisky once. They also reminded us (if we needed reminding) that being Queen of England involves some absolutely gorgeous clothes and jewelry.
We published our first Queen Victoria costume back in 2011. Nine years later we decided to create an updated version, inspired by a new ball gown at Recollections that was a great match for one of the dresses worn by Jenna Coleman in Victoria. Then COVID intervened, and when we were finally able to publish the new costume design in 2023, Recollections had sold out of that particular color (it was a navy iridescent taffeta). Such are the challenges of hacking together costumes from existing items. But the dress itself is still available, just not in our original color.
The pieces we suggest, from left to right: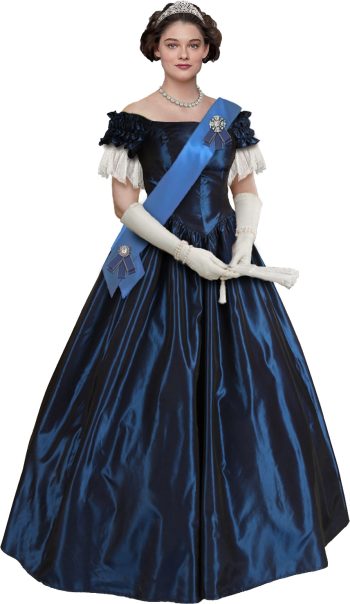 1. Chantelle Victorian Ball Gown. They no longer have this in the navy we used, but the other colors are nice. You can see them a little better at their Etsy shop.
You'll need a hoop skirt petticoat to make the dress pouf out. A four-bone hoop skirt with ruffles, like this one from Amazon, is a reasonable alternative to a dressmaker or bridal quality hoop skirt, though it won't give you as much volume. We also suggest a corset or a longline bra to help give you a period-correct rigid torso.
2. Lace cuffs. To create the cuffs, we used tiny safety pins to attach a length of old ruffled lace inside each sleeve of the dress. This gathered lace is very similar to the lace from our stash. But you can use any kind of ruffled trim: organza, tulle, machine lace, eyelet. Just get something that's about six inches wide so you'll have room to pin it and still have it make a nice faux undersleeve. A yard or two will be plenty to make both cuffs. Alternatively, you could wear a chemise under your dress that has lace sleeves, and let the cuffs peek out.
3. Stars and garters. On formal occasions Victoria wore her Order of the Garter regalia: blue sash, diamond Garter Star, and diamond sash badge. We used a plain blue sash and a couple of pre-tied bow brooches to recreate the look without breaking the bank. (You can get reproduction Garter regalia, but it's expensive). We replaced the rhinestone pin on one of the bows with a large brooch in the shape of a Maltese cross; that's our stand-in for the diamond Garter Star. Wear the sash over your left shoulder, pin the faux Garter Star over your left breast, and pin the other brooch as a badge where the sash crosses at your hip.
4. Anastasia tiara. This kokoshnik-like rhinestone tiara is a reasonably good match for the diamond fringe tiara that Victoria inherited from Queen Adelaide. (The Court Jeweller has an interesting post on the history of the piece.)
5. Rhinestone collet necklace. Queen Victoria inherited a magnificent diamond collet necklace that she subsequently lost in a court battle with her cousin, the King of Hanover; the replacement necklace she had made is now known as the Coronation Necklace. (The Court Jeweller has a good post about that, too.) Emily Blunt is wearing a replica in the screenshot above from The Young Victoria. You can actually buy a replica yourself at Dames a la Mode. But for our costume we used this modern "chunky tennis necklace" from Etsy. That style is in vogue now, so you can also go much cheaper and get an inexpensive rhinestone necklace from Amazon.
6. Off-white matte satin evening gloves. You may also want to carry a lace fan.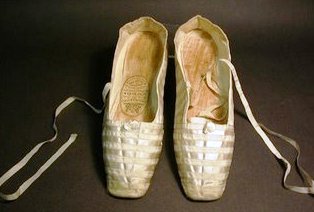 Shoes: Nobody is going to see your feet under that dress! But if you want to keep in period style, wear Isotoner satin ballet slippers. The small picture to the right shows Queen Victoria's 1840 wedding shoes, which were the same kind of evening shoes all ladies wore in that period. They're ballet slippers, basically; they even have ribbons. Modern Isotoners are an excellent substitute. Heels started coming back after 1850, but they were very low.




Other costumes in this category: Queens