Queen Liliuokalani (1838-1917) was the last reigning monarch of the Kingdom of Hawaii. She came to the throne in 1891 as a pro-native, pro-woman advocate for her people, and quickly found herself at odds with the American businessmen (sugar barons, pineapple planters) who wanted to annex the islands to the United States. Liliuokalani had the support of the native Hawaiians, but the Americans had the support of an armed U.S. warship in the harbor and a landing force of U.S. troops. In 1893 they overthrew the monarchy, deposed the queen, and established a Provisional Government with Sanford Dole (of the pineapple family) as president. By 1898 the annexation of Hawaii to the United States was complete.

Queen Liliuokalani conducted herself with great dignity throughout the whole sorry episode, which included a show trial and temporary imprisonment. She made a number of attempts to resolve the situation via diplomatic overtures to Washington, but the tide of imperialism was against her. In retirement she devoted herself to writing, scholarship, charity, and above all, music. Liliuokalani was a gifted musician and composed over 150 pieces, including the most famous Hawaiian song in the world: "Aloha Oe."
The items we suggest, from left to right:
1. Black Evanese gown in plus sizes. This is a thoroughly modern gown, but the way it's cut makes it easy to fake a late-Victorian silhouette. Just temporarily add some lace at the neckline (next).
2. Black lace scarf. Instant Victorian styling. Tuck in this scarf all around your neckline/shoulder straps and shirr it to give the effect of a lace ruffle. A few black safety pins, discreetly positioned, will keep it nicely in place.
3. The Royal Order of Kalakaua I. That's the blue sash and badge that the Queen is wearing in her portraits. Get a sash ribbon or a pageant sash and a bow-shaped rhinestone brooch. Wear the sash over your right shoulder and pin the brooch where it crosses at your hip.
4. Rhinestone butterfly brooch. One of Queen Liliuokalani's prized possessions was the diamond butterfly brooch she bought in London during Queen Victoria's Golden Jubilee. She wore it in her hair, which is exactly what you should do with this rhinestone brooch.
5. Gray cameo with rhinestone accents. Pin this over the lace at your neckline.
6. Imperial black velvet choker with blue rhinestone pendant. From the Art of Adornment, which carries all kinds of remarkable things.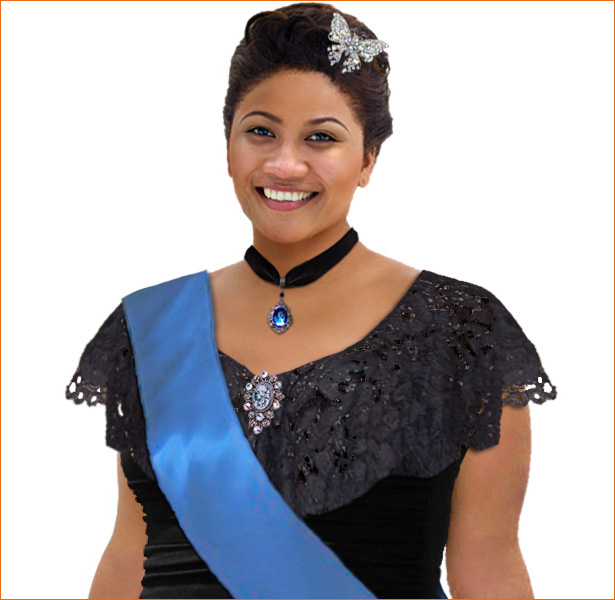 Hawaiian heirloom bracelets: Queen Liliuokalani introduced the bracelet style that would come to be known as Hawaiian heirloom. It was initially inspired by the English mourning jewelry that was popular in the wake of Prince Albert's death: black enamel lettering on a simple gold band. Liliuokalani fell in love with the style, and commissioned pieces as personal mementos and gifts. More than a hundred years later, the style is still a treasured tradition in Hawaii.
If you're fortunate enough to have a Hawaiian heirloom bracelet, by all means wear it with your Queen Liliuokalani outfit. If not, you might want to fake it with an inexpensive metal bangle.
---
Main illustration credits: The full-length portrait of Queen Liliuokalani is by William Cogswell. We don't know the provenance of the three-quarter portrait, but it seems to be based on a photograph made in 1887 (Wikimedia Commons). The detail images are of Liliulokalani's diamond butterfly brooch and of the Royal Order of Kalakaua I sash and badge, both in the Iolanai Palace collection.



Other costumes in this category: Queens