Nzinga (1582-1663) was the queen of Ndongo and Matamba, historical states in what is now Angola. This altogether remarkable woman seized the throne and held it for 40 years, successfully resisting Portuguese colonialism. She also created a crack army, waged war and fomented rebellion, played the European powers off against each other, kept male concubines, and, to cope with nagging doubts about her right to rule, declared herself "officially" a man. What a woman.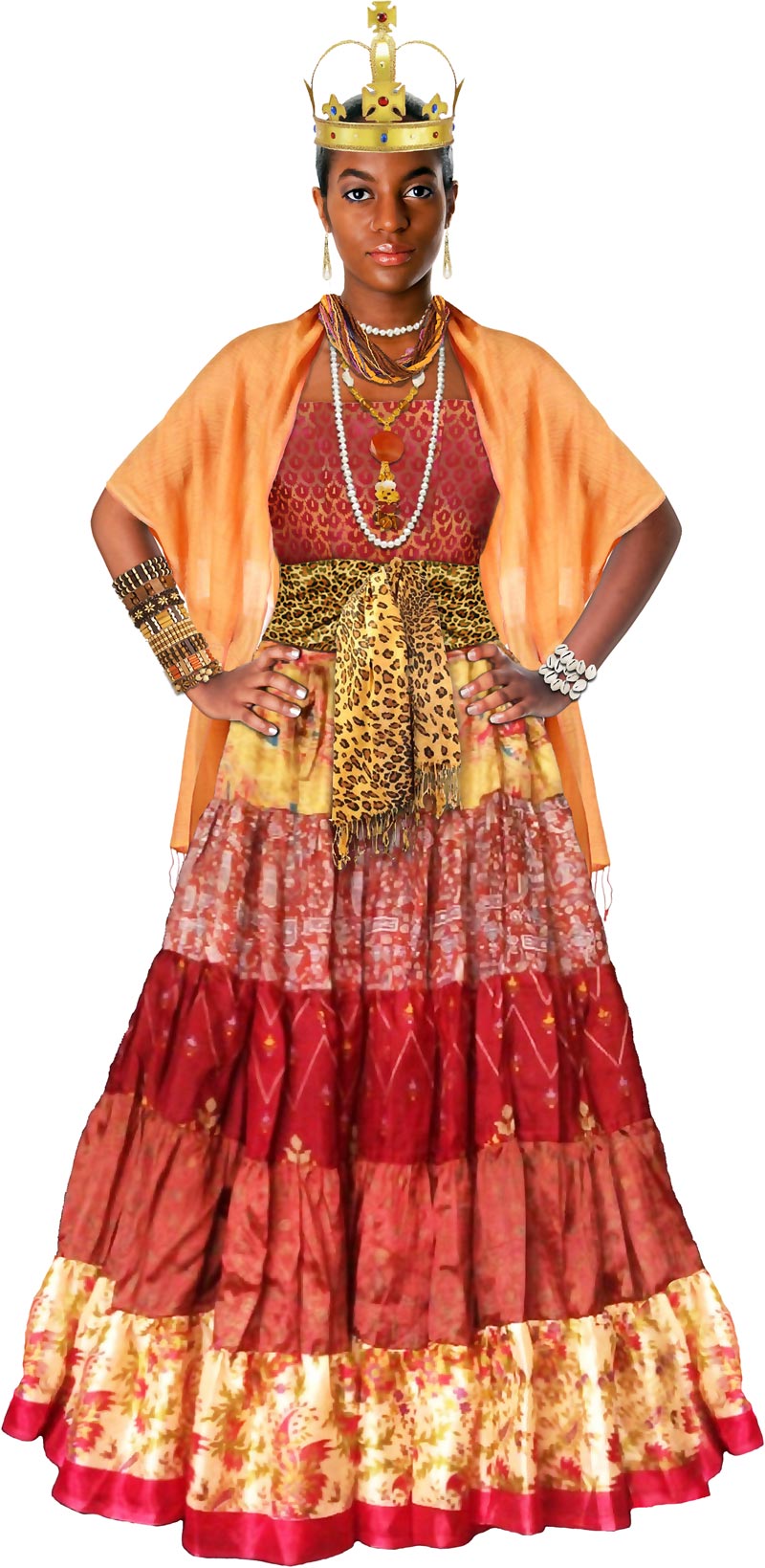 From a costuming standpoint, Nzinga is a fascinating figure: existing watercolors made from life (in the center of our illustration above) show her wearing a blend of African and European styles. Her crown, for example, she had especially made to match European models, but she also wore the leopard skins of Mbundu royalty. Her clothing was imported silk, which she had made up by her own dressmakers into ruffled skirts and cloaks. Her jewelry included pearls—a favorite with contemporary European monarchs—as well as African cowrie shells and beads. The pieces we suggest, from left to right:
1. Vintage ruffled silk skirt. These gorgeous 6-yard skirts are made from recycled sari silk. As such, they're probably about as good a match as you'll find for the kind of skirts Nzinga wore. If that store is out of stock, you can find similar recycled sari skirts here and here.
2. Scallop-pattern sarong in red. In the watercolor sketches it looks like Nzinga is wearing a tie-around top. A sarong will work perfectly, and the pattern on this one evokes the rich look of early 17th century fabrics.
3. Leopard print shawl. This is a generous 72 x 28 inches, plenty long enough to knot around your waist as a sash.
4. Silk shawl in light orange. This beautiful silk pashmina comes in a bunch of different colors; we chose the light orange to coordinate with the rest of the outfit.
5. Costume crown. The shape of this piece is a good match for the crown Nzinga had made for herself; just remove the red fabric. A real metal crown would be nicer, but they're pricey. Like, a hundred bucks.
6. Jewelry from Firemountain Gems. Firemountain sells to everyone at wholesale prices, so it's a great place to stock up on jewelry. Clockwise from top left in the composite image below: Red agate necklace (total length 33 inches). Multi-strand wooden bead necklace (total length 30 inches). Freshwater pearl necklace (real pearls, 58-inch continuous loop). Cowrie shell bracelet (we suggest wearing several). Set of carved wooden bracelets (eight bracelets in the package). Faux pearl earrings (2.7 inch drops).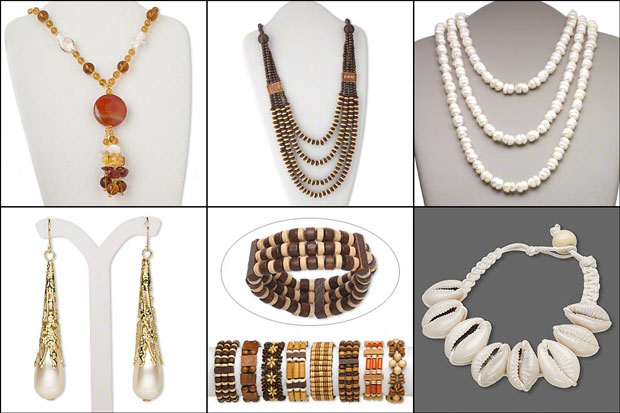 ---
Illustration credits: Giovanni Antonio Cavazzi da Montecuccolo (1621–1678) was a Capuchin missionary who spent time at Nzinga's court in the 1660s. His watercolor sketches of Nzinga and her courtiers are at the center of our main illustration. The large modern painting to the right is signed "Leo S," but we have no other information about it. The small Nzinga portrait is from a book cover illustration by Laurie McGaw for African Princess: The Amazing Lives of Africa's Royal Women.



Other costumes in this category: Queens